The rapid development of the industry cannot be separated from a complete and competitive industrial chain. As an important part of the subdivided field of the new energy automobile industry chain, Sinoma Lithium Battery Separator Co., Ltd. is a well-known R&D and manufacturing provider of lithium battery diaphragm, the core material of new energy batteries at home and abroad. In the face of the trend of intelligent times, it actively constructs the enterprise's digital production system and intelligent logistics system to plan for future development.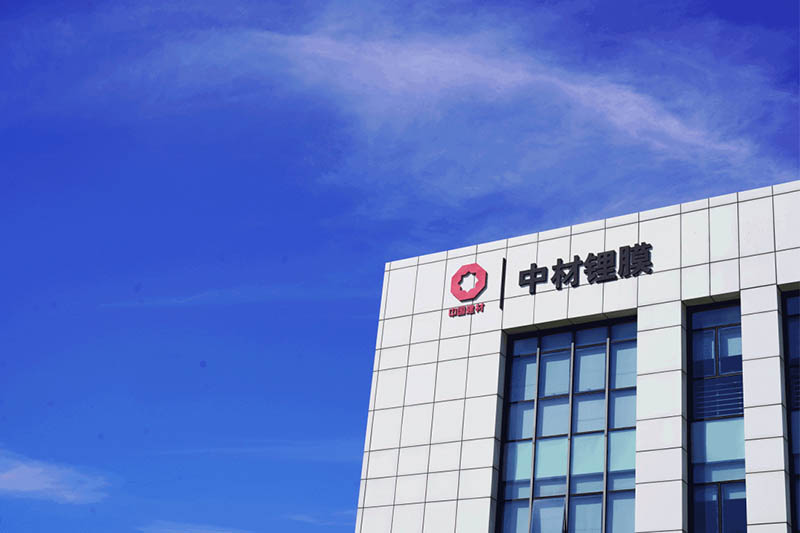 1. Customer introduction
Sinoma Lithium Battery Separator Co., Ltd. (affiliated to China Building Materials Group, a central enterprise directly under the SASAC) is the first high-tech enterprise in the industry that has both wet synchronous stretching and wet asynchronous stretching processes for high-performance lithium battery membranes. The company's main products are 3~20 μ M High performance base film and various coating diaphragms mainly serve LG, PANASONIC, SKI, CATL, BYD and other top ten battery enterprises in the world, and their products are widely recognized and favored by domestic and foreign lithium battery customers.
2. Project overview
  – Investment of 1.57 billion yuan
  – 560 million square meters
  – 657 million square meters
  – 1 billion yuanShuttle movers & stacker cranes
Sinoma Lithium Battery - Tengzhou Project is located in Tengzhou Economic Development Zone, Zaozhuang City, Shandong Province, with a total investment of 1.57 billion yuan. After completion, 560 million square meters of base film capacity can be added and 657 million square meters of coating film can be coated, with an estimated annual sales revenue of 1 billion yuan. Among them, the project of building smart storage for Sinoma Lithium Battery by Inform Storage is divided into two phases. The first phase is the intensive warehouse system for shuttle movers, and the second phase is the automated warehouse system for stacker cranes. Now introduces the stacker crane warehouse system.
    - 18 meters high, 9 layers, and 2076 pallet storage spaces
    - 2 stacker cranes
    - 2 fork RGVs
    - 3 elevators
    - WMS system & WCS system
    - Other intelligent software
In view of the characteristics of Sinoma's Lithium Battery products and the customer needs mainly for the temporary storage, ripening and tray storage of film rolls, the pallet stacker crane system solution is adopted for the planning and design of sonic flight storage. After completion, the automated warehouse of stacker crane is 18 meters high, 9 layers, and 2076 pallet storage spaces in total; The automated warehouse is equipped with 2 stacker cranes, 2 fork RGVs, 3 elevators, WMS system, WCS system and other intelligent software, The overall system can realize the digital management and the warehousing and outbound functions of products such as the primary slitting, primary sorting, secondary slitting, secondary sorting, packaging, shipping and coating unit of materials.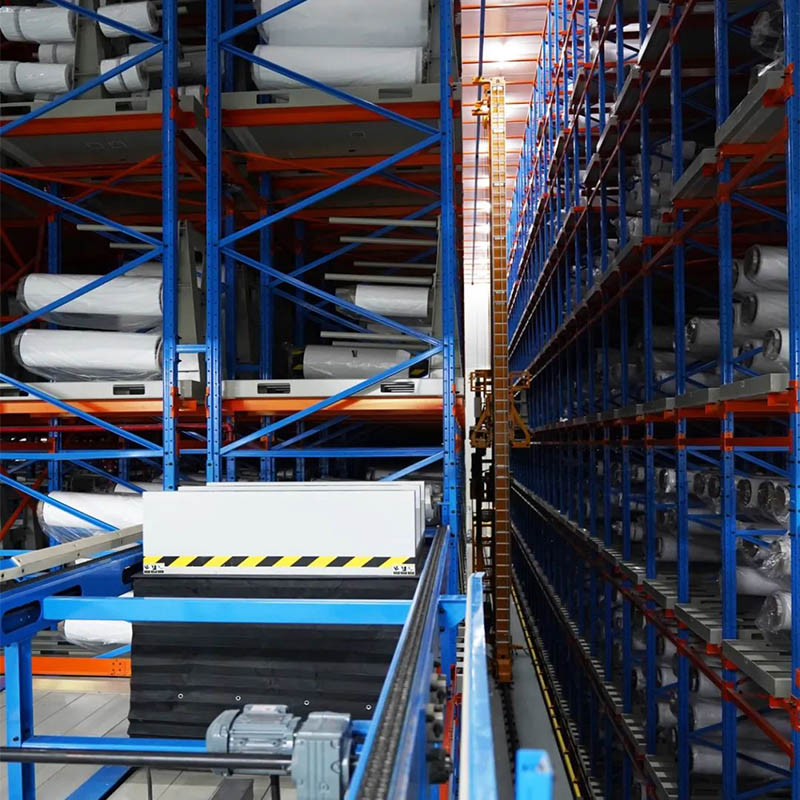 - Stacker crane- 16.7m high- Carrying 1000kg- Traveling speed 120m/min- Lifting speed 30m/min
As far as intelligent equipment is concerned, the project is equipped with ROBOTECH stacker crane, a world-famous brand (a brand under the Inform Storage), The stacker crane is 16.7m high, carrying 1000kg, traveling speed 120m/min, and lifting speed 30m/min. The fork type RGV matched with the port is mainly used for the input or output of pallet cargo, and the modular design makes it adapt to various needs; In terms of details, RGV traveling wheel adopts rubber coated wheel, RGV track adopts aluminum track, and guide mechanism adds non-metallic materials to prevent wear.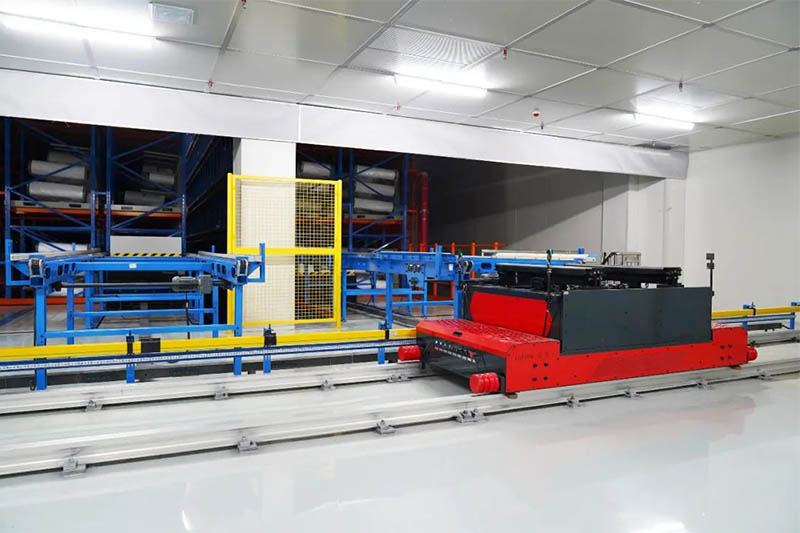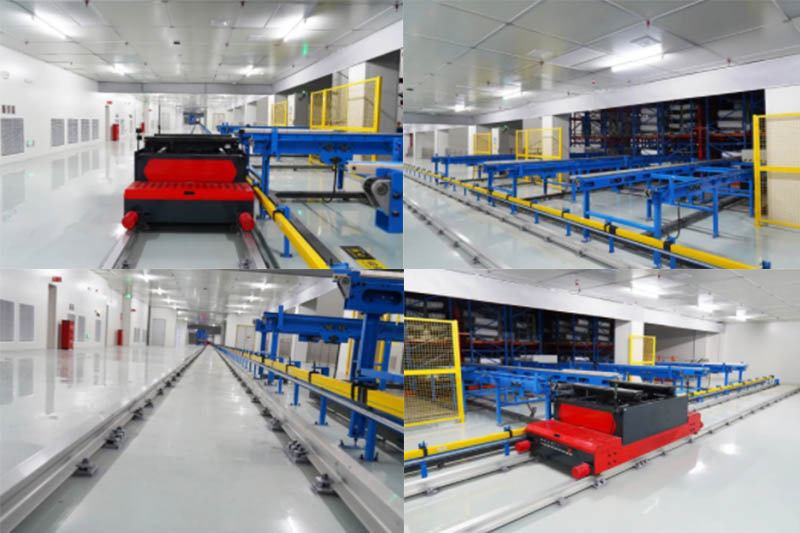 The overall system of the stereo warehouse achieves 70 pallet/h in and out efficiency, including 9 pallet/h in and out of the second floor and 20 pallet/h in and out of the first floor. Note: The above comprehensive operation capacity includes the warehousing and outbound of goods, the warehousing and outbound of empty pallets, and the location adjustment of goods and pallets in the warehouse due to operation requirements.
4. Value for customers
The whole process automation of film roll from production to storage is realized, which greatly improves the production efficiency and saves the labor cost; Through WMS, WCS and other intelligent software platforms, the intelligent management of warehousing and logistics system is realized, with simpler operation and faster and more accurate information processing; It can speed up the turnover of goods, reduce storage costs, and greatly improve the operational efficiency and economic benefits of enterprise warehousing logistics.
At present, intelligent warehousing in "subdivided fields" of new energy automobile industry pays more attention to scenario application research. As a leading enterprise in the field of intelligent logistics, Inform Storage continues to innovate and develop, forming multiple system solutions based on intelligent devices such as shuttles, stacker cranes, AGV, etc. It has many successful project cases in the new energy automobile industry, such as CATL Project, FAWSN, Shanghai Mechanical & Electrical Industry Co.,Ltd. Brilliance Auto, etc.
In the future, Inform Storage will continue to focus on the new energy automobile industry, deepen the scene application research, and provide customers with more and better products and services.
NanJing Inform Storage Equipment (Group) Co.,Ltd
Mobile phone: +86 13851666948
Address: No. 470, Yinhua Street, Jiangning District,Nanjing Ctiy,China 211102
Website: www.informrack.com
Email: kevin@informrack.com
---
Post time: Nov-30-2022