Two Way Multi Shuttle System
Product Detail
Product Tags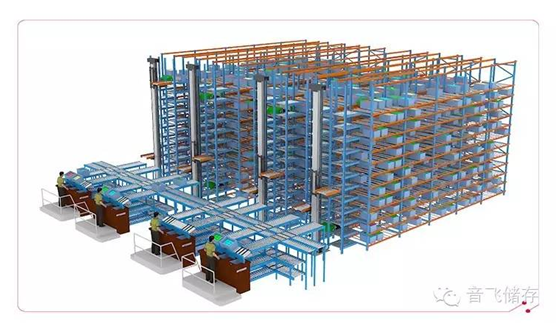 System Advantages
■Automated picking improves order accuracy
In traditional warehouses, manual picking has resulted in a high rate of order errors due to staff fatigue and negligence. INFORM multi shuttle system is managed by WMS software. According to order contect, the picking sequence is optimized, the goods are automatically retrieved, the accuracy of order picking is improved, and efficient and precise picking is realized.
■Reduce personnel input by 50% and reduce labor costs
In the face of high-frequency access requirements, traditional warehouses usually increase manpower to meet demand. There is often shortage of manpower and staff fatigue, which leads to prolonged delivery time, which directly manifests as low customer evaluation and poor customer experience, which affects the corporate image. .
INFORM multi shuttle system can realize the picking of 1,000 items per hour, the fully automated equipment does not require personnel to pick, reduce personnel input, improve the efficiency of picking, achieve efficient picking, and optimize customer experience.
■Realize high-density storage and reduce land costs
Compared with traditional warehouses, INFORM multi shuttle system can save 50% of storage land. In today's particularly tight land resources, high-density storage solutions can greatly reduce storage costs for enterprises.
■ Friendly human-computer interaction, optimizing the working environment of employees
The goods-to-person picking system is designed based on ergonomic principles to optimize employee experience. Humanized light prompts ensure easy operation and correct identification by operators.
Operators only need to be in a fixed position, according to the instructions on the display screen, to pick up the corresponding goods, easily complete the order and pick up, the operation is simple and easy to learn, avoiding human fatigue due to frequent operations. Operator can maintain the requirements of rapid operation for a long time, ensuring work effectiveness.
Applicable Industry:   cold chain storage (-25 degree)  , freezer warehouse , E-commerce , DC center , food and beverage , chemical , Pharmaceutical industry,automotive ,lithium battery Etc.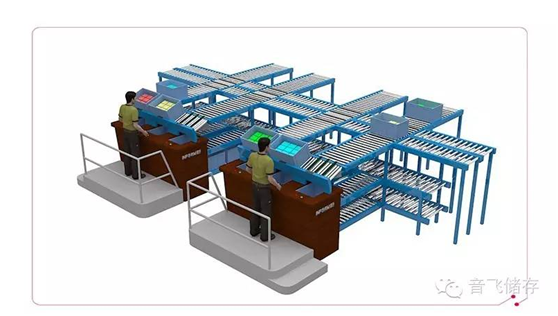 NANJING INFORM STORAGE EQUIPMENT (GROUP) CO.,LTD helps Vipshop, with warehousing operation model, tailored a smart and efficient multi shuttle intensive storage solution.
Vipshop was established in August 2008, headquartered in Guangzhou, and its website was launched on December 8th of the same year. On March 23, 2012, Vipshop was listed on the New York Stock Exchange (NYSE). Vipshop has five logistics and warehousing centers located in Tianjin, Guangdong, Jiangsu, Sichuan, and Hubei, serving customers in North China, South China, East China, Southwest China, and Central China. The nationwide storage area is 2.2 million square meters.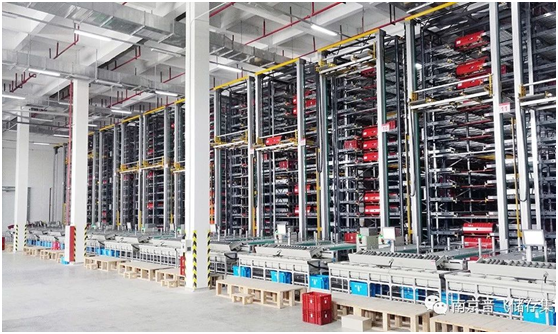 Project summary
Vipshop's multi shuttle storage system is a set of integrated system that combines storage and order sorting with the shuttle as the core, tailor-made by INFORM. In the overall order fulfillment operation process of Vipshop, it is mainly responsible for: inbound, goods storage, order picking, batch collection, outbound, etc. The back end is docked with the large cross-belt sorter of Vipshop to complete the secondary order picking and packing functions for end consumers, solving the pain points of Vipshop's time-consuming and laborious order picking and collection during the B2C order fulfillment process, and greatly improves the efficiency of picking.
This project innovatively adopts the cooperative operation of INFORM and Vipshop, according to the model of traffic accounting. INFORM has invested in the construction of a complete set of automation systems and warehousing software solutions including racking, bins, multi shuttles, elevators, conveyor lines, distribution hoppers, WMS, WCS, etc., to satisfy the customer's order fulfillment of three business models of forward delivery, reverse return and transfer between warehouses. At the same time, it provides on-site automation system software and hardware operation and maintenance services to ensure high efficiency and effectiveness of the entire system.
Vipshop will incorporate this system into the overall planning and layout of the South China Customer Return Logistics Center, which is the core part of customer return sorting and collection, which greatly improves the storage efficiency and operator efficiency.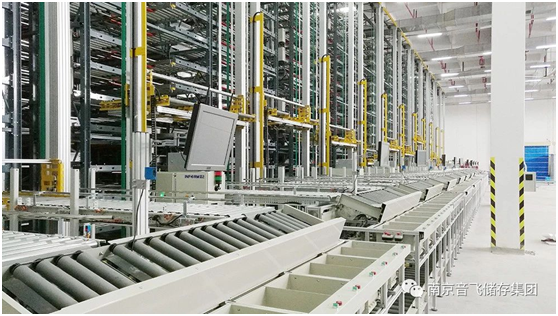 Project Scale
☆ 12 lanes;
☆ More than 65,000 cargo spaces;
☆ 200 multi shuttle cars;
☆ 12 sets of elevators;
☆ 12 sets of distribution hoppers;
☆ 2 sets of picking and collection conveyor lines;
☆ 1 set of WMS system and 1 set of WCS system.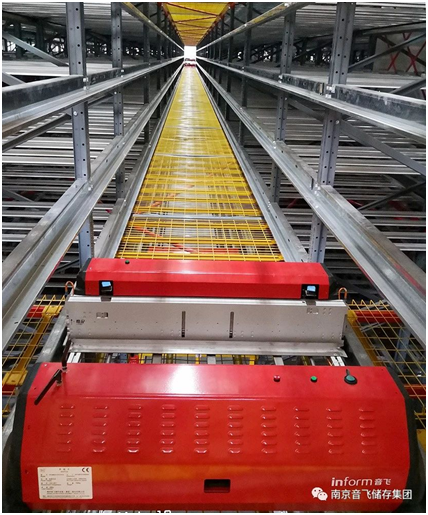 Project Features
1. Ultra-high self-production rate: all core equipment of the system are self-produced, and self-production rate exceeds 95%;
2. The self-developed multi shuttle has excellent performance and uses super capacitors as power source;
3. Distribution hopper was specially developed for this Vipshop project as a work station for human-machine dialogue;
4. Adopt a very personalized cooperation model with Vipshop and put it into operation in the form of equipment rental.
5. A set of powerful WMS and WCS systems have been independently developed and customized for Vipshop:
☆ WMS system focuses on order wave management and task issuance;
☆ WCS system focuses on: ① task scheduling, charging management, fault feedback, operation status information collection and analysis of all shuttles; ② scheduling of elevator pick-up and drop-off tasks and layer change tasks; ③ picking and collection task management of the distribution hopper, etc.
Project Benefits
●Reduce customer investment risk: Most customers are cautious about the adoption of new technologies due to their ignorance of equipment, so investment decisions cannot be completed; by INFORM investment, customer's comprehensive investment risk is reduced.
●Improve the efficiency of logistics automation equipment: INFORM has solid technical research and development capabilities, which can gradually optimize the performance of equipment during use process, and then storage efficiency is gradually improved.
●Reduce warehousing and logistics operating costs: With the same equipment investment, efficiency is improved, which can greatly reduce operating cost of a single box. The investment in automation equipment reduces personnel investment and overall costs for customers.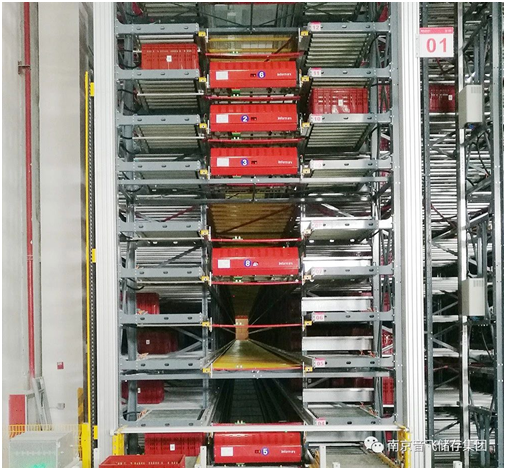 One of INFORM operating modes
Operational services of this type of project: Provide customers with a complete set of service solution such as warehousing plan design and planning, intelligent warehousing storage, handling equipment (racking + robot), warehousing and picking equipment, conveying and sorting equipment, operation management services and warehousing management software:
●Inbound quality inspection:
a. Work with merchant to develop quality inspection standards;
b. Configure information-based testing equipment to ensure that the quality inspection results can be tracked and recorded;
c. Can adopt the method of dispatching inspector by merchant.
●Goods storage:
a. Sort out customer's business model and determine storage plan;
b. Configure appropriate storage devices according to goods characteristics;
c. Dynamic inventory management to realize real-time connection with merchants about goods information
●Goods inbound and outbound:
a. Configure optimized warehousing automation equipment according to characteristics of customer's order;
b. Configure appropriate WMS according to characteristics of process flow to connect with customer's order management system;
c. Configure emergency plans according to warehousing service quality requirements (accuracy rate of receipt and delivery, accuracy rate of inventory, product damage rate)
●Order picking: Configure an optimized goods-to-person picking plan according to characteristics of orders.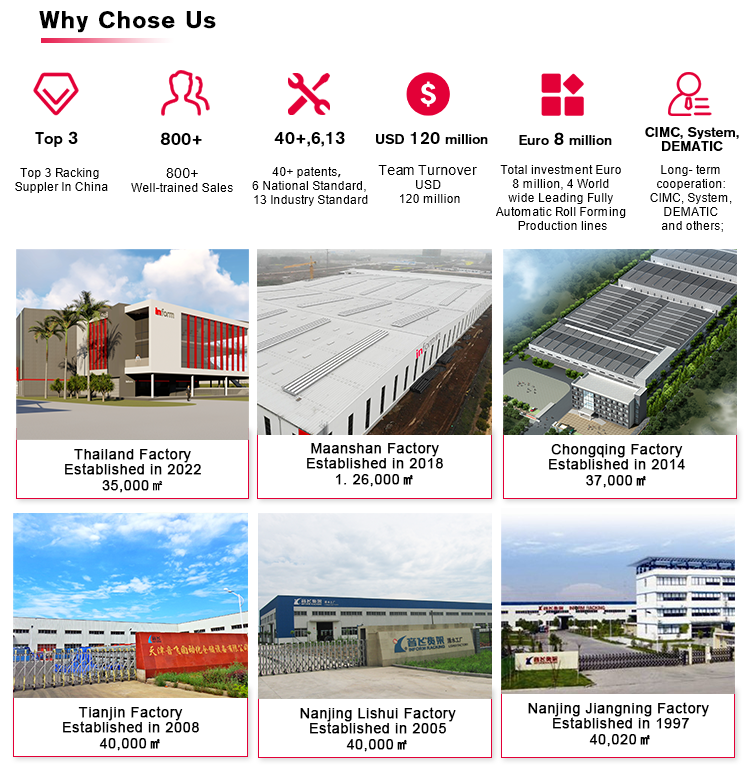 Top 3 Racking Suppler In China
The Only One A-share Listed Racking Manufacturer
1. NanJing Inform Storage Equipment Group,as a public listed state controlled enterprise, specialized in the logistic storage solution field since 1997( 26 years of experience).
2.  Core Business: Racking
Strategic Business:Automatic System Integration
Growing Business: Warehouse Operation Service
3.  Inform owns 6 factories, with over 1000 employees. Inform listed A-share on June 11, 2015, stock code: 603066, becoming the first listed company in China's warehousing industry.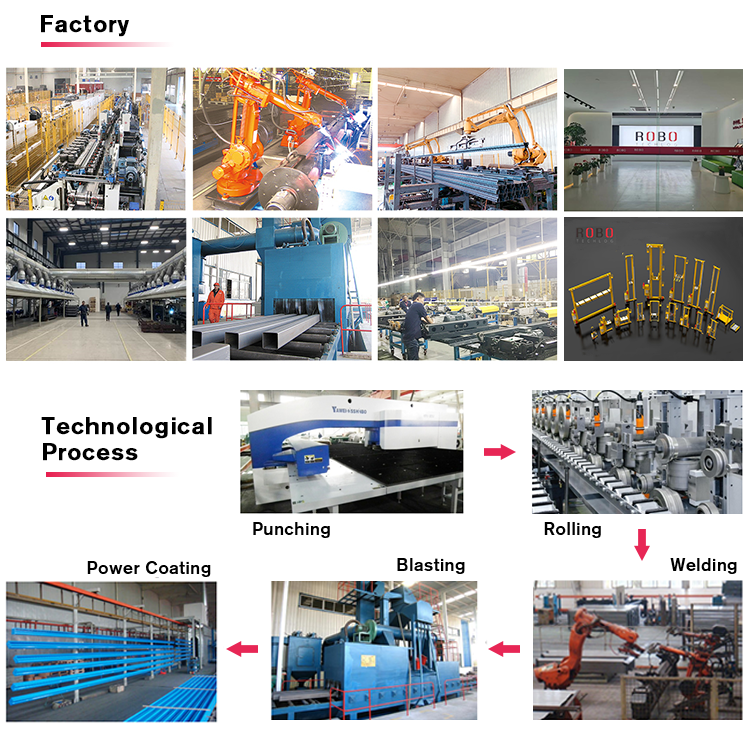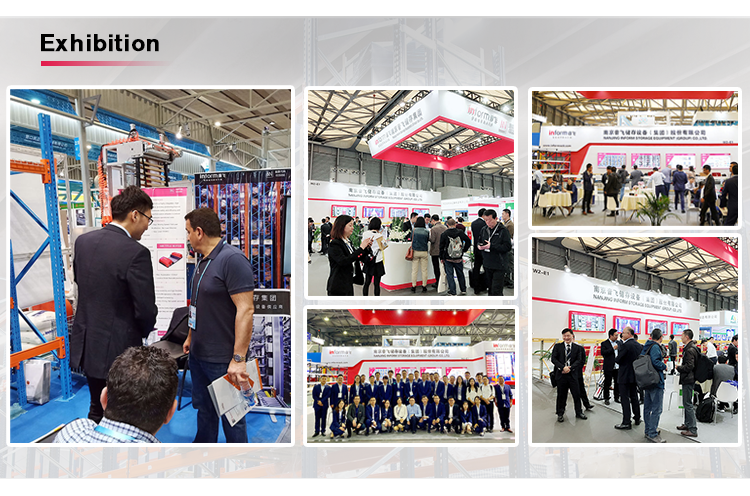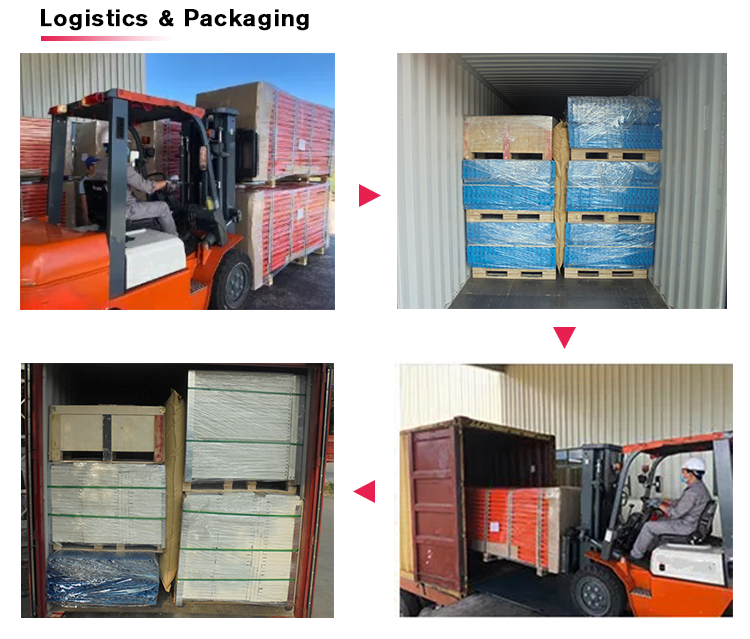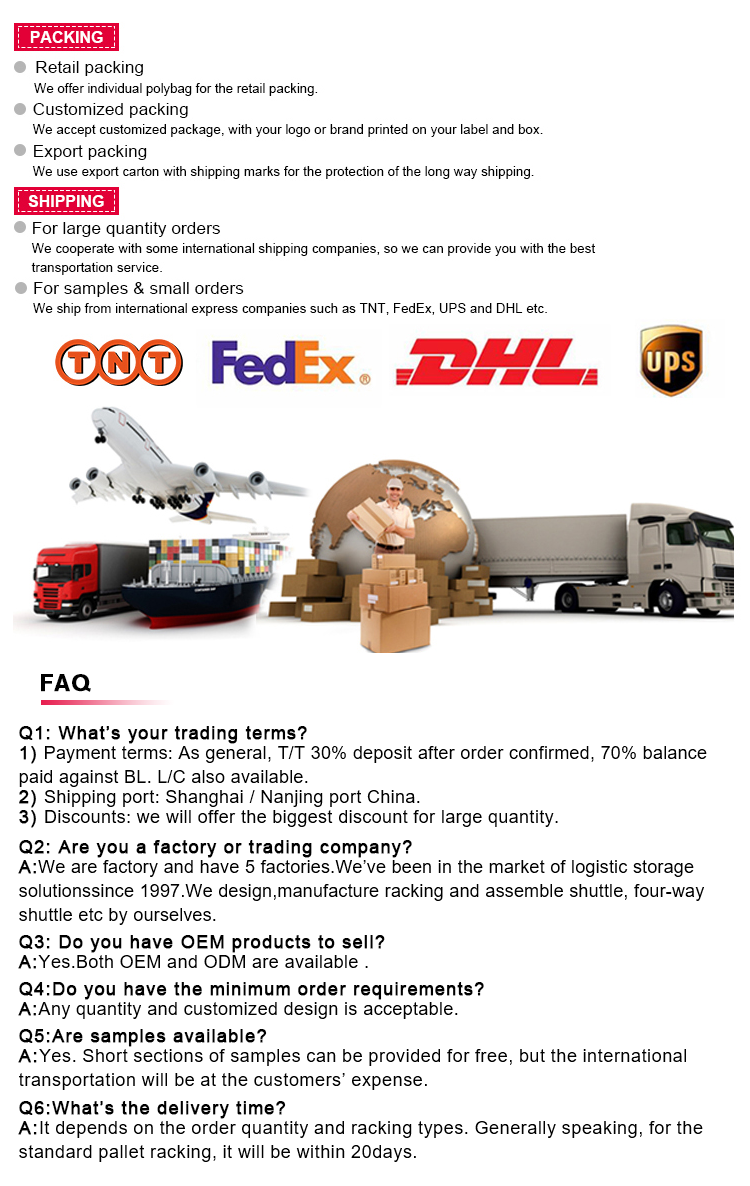 ---
Previous:
Four Way Radio Shuttle System
---
Write your message here and send it to us