Lion Series Stacker Crane
Product Detail
Product Tags
| | | |
| --- | --- | --- |
| Name | Code | Standard value(mm)(detailed data is determined according to the project  situation) |
| Cargo width | W | 400 ≤W ≤2000 |
| Cargo depth | D | 500 ≤D ≤2000 |
| Cargo height | H | 100 ≤H ≤2000 |
| Total height | GH | 3000<GH ≤24000 |
| Top ground rail end length | F1、F2 | Confirm according to the specific plan |
| Outer width ofstacker crane | A1、A2 | Confirm according to the specific plan |
| Stacker crane distance from the end | A3、A4 | Confirm according to the specific plan |
| Buffer safetydistance | A5 | A5 ≥300  (polyurethane), A5 ≥ 100  (hydraulic buffer) |
| Buffer stroke | PM | PM ≥ 150  (polyurethane), specific calculation (hydraulic buffer) |
| Cargo platformsafety distance | A6 | ≥ 165 |
| Ground rail endlength | B1、B2 | Confirm according to the specific plan |
| Stacker crane wheel base | M | M=W+1300(W≥700), M=2600(W<700) |
| Ground rail offset | S1 | Confirm according to the specific plan |
| Top rail offset | S2 | Confirm according to the specific plan |
| Pickup itinerary | S3 | ≤3000 |
| Bumper width | W1 | - |
| Aisle width | W2 | D+200(D≥1300), 1500(D<1300) |
| First floor height | H1 | Single deep H1 ≥650, double deep H1 ≥750 |
| Top level height | H2 | H2 ≥H+1450(H≥900),H2 ≥2100(H<900) |
Lion series, very strong and powerful single-column stacker crane, up to 46m in  height. It can carry pallets weighing up to 1500kg, with a speed of 200m/min and an acceleration of 0.6m/s2.
• Height up to 25 meters.
• Shorter end distance for flexible installation.
• Variable frequency drive motor (IE2), running smoothly.
• Fork units can be customized to handle a variety of loads.
• The end size can be saved by about 500mm.
• The minimum height of the first floor: 650mm (single deep), 750mm (double deep)
Applicable Industry:   cold chain storage (-25 degree)  , freezer warehouse , E-commerce , DC center , food and beverage , chemical , Pharmaceutical industry,automotive ,lithium battery Etc.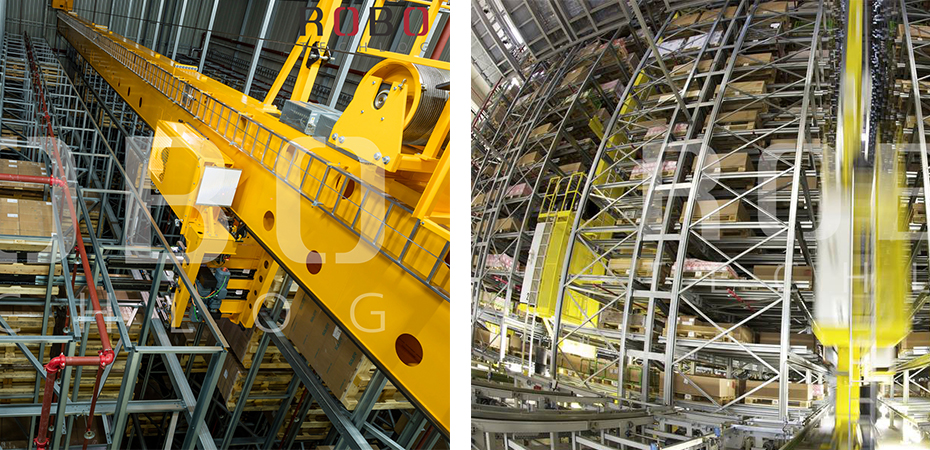 Model
Name
SMHS-P1-1500-08
Bracket Shelf
Standard Shelf
Single deep
Double deep
Single deep
Double deep
Maximum height limit GH
8m
Maximum load limit
1500kg
Walking speed max
160m/min
Walking acceleration
0.5m/s2
Lifting speed(m/min)
Fully loaded
20
20
20
20
No load
55
55
55
55
Lifting acceleration
0.5m/s2
Fork    speed(m/min)
Fully loaded
30
30
30
30
No load
60
60
60
60
Fork acceleration
0.5m/s2
Horizontal positioning accuracy
± 3mm
Lifting positioning accuracy
± 3mm
Fork positioning accuracy
± 3mm
Stacker crane net weight
About 6000kg
About 6500kg
About 6000kg
About 6500kg
Load depth limit D
1000~1300(inclusive)
1000~1300(inclusive)
1000~1300(inclusive)
1000~1300(inclusive)
Load width limit W
W ≤ 1300  (inclusive)
Motor specification and parameters
Level
AC;11kw(single  deep)/11kw(double deep);3 ψ;380V
Rise
AC;11kw;3 ψ ;380V
Fork
AC;0.75kw;
3ψ;4P;380V
AC;2*3.3kw;
3ψ;4P;380V
AC;0.75kw ;
3ψ ;4P;380 V
AC;2*3.3kw;
3ψ ;4P;380V
Power supply
Busbar(5P;  including grounding)
Power supply
specifications
3 ψ ;380V±10%;50Hz
Power supply capacity
Single deep  is about 44kw;double deep is about 52kw
Top ground rail specifications
Anglesteel 100*100*10mm(The installation distance of the ceiling rail is not more than 1300mm)
Top rail offset S2
-300mm
Ground rail specifications
30kg/m
Ground rail offset S1
0mm
Operating temperature
-5 ℃~40℃
Operating humidity
Below 85%, no  condensation
Safety devices
Prevent walking derailment: laser sensor, limit switch, hydraulic buffer
Prevent lifts from topping or bottoming: laser sensors, limit switches, buffers
Emergency stop function: emergency stop button EMS
Safety brake system: electromagnetic brake system with monitoring function
Broken rope (chain), loose rope (chain) detection: sensor, clamping mechanism
Cargo position detection function, fork center inspection sensor, fork torque limit protection
Cargo anti-fall device: cargo shape detection sensor Ladder, safety rope or safety cage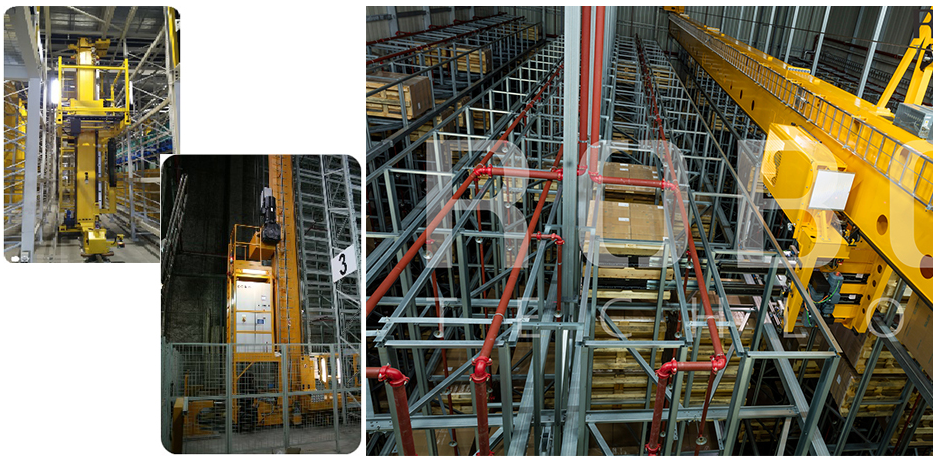 ---
Previous:
Giraffe Series Stacker Crane
Next:
New Energy Racking
---
Write your message here and send it to us