Giraffe Series Stacker Crane
Product Detail
Product Tags
Name
Code
Standard value(mm)(detailed data is determined according to the project situation)
Cargo width
W
400 

≤W

 

≤2000

Cargo depth
D
500 

≤D

 

≤2000

Cargo height
H
100 

≤H

 

≤2000

Total height
GH
24000

<

GH 

≤35000

Top ground rail end length
F1, F2
Confirm according to the specific plan
Outer width of stacker crane
A1, A2
Confirm according to the specific plan
Stacker crane distance from the end
A3, A4
Confirm according to the specific plan
Buffer safety distance
A5
A5 

≥

 100 (hydraulic buffer)
Buffer stroke
PM
Specific calculation (hydraulic buffer)
Cargo platform safety distance
A6

≥

 165
Ground rail end length
B1, B2
Confirm according to the specific plan
Stacker crane wheel base
M
M=W+2900(W≥1300), M=4200(W

<

1300)
Ground rail offset
S1
Confirm according to the specific plan
Top rail offset
S2
Confirm according to the specific
Pickup itinerary
S3
≤3000
Bumper width
W1
350
Aisle width
W2
D+250(D≥1300), 1550(D<1300)
First floor height
H1
Single deep H1 ≥650, double deep H1 ≥ 750
Top level height
H2
H2 ≥H+675(H≥1130), H2 ≥1800(H< 1130)
Giraffe series, a double-column stacker crane, is suitable for palletized goods under 1500kg and an installation height of more than 46 meters. This series has both excellent structural design and strict manufacturing precision, so that its running speed can reach 200 meters per minute, and the giraffe series can be designed to run on a turning track.
•  Installation height up to 35 meters.
•  Pallet weights up to 1500 kg.
•  The series looks light and thin, but is actually strong and sturdy, and its speed can reach 180 m/min.
•  Variable frequency drive motor (IE2), running smoothly.
•  Fork units that can be customized to handle a variety of loads.
Applicable Industry:   cold chain storage (-25 degree)  , freezer warehouse , E-commerce , DC center , food and beverage , chemical , Pharmaceutical industry,automotive ,lithium battery Etc.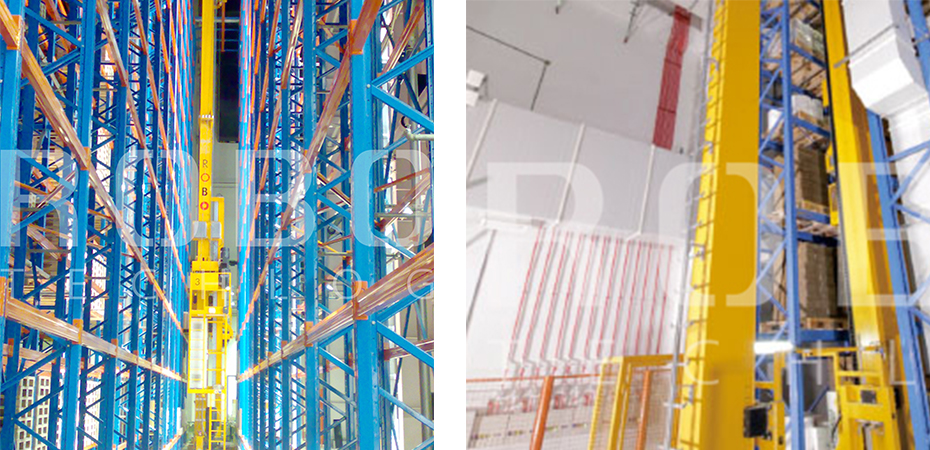 Model
Name
TMHS-P1-1500-35
Bracket Shelf
Standard Shelf
Single deep
Double deep
Single deep
Double deep
Maximum height limit GH
35m
Maximum load limit
1500kg
Walking speed max
180m/min
Walking acceleration
0.5m/s2
Lifting speed (m/min)
Fully loaded
45
45
45
45
No load
55
55
55
55
Lifting acceleration
0.5m/s2
Fork
Fully loaded
40
40
40
40
Speed(m/min)
No load
60
60
60
60
Fork acceleration
0.5m/s2
Horizontal positioning accuracy
± 3mm
Lifting positioning accuracy
± 3mm
Fork positioning accuracy
± 3mm
Stacker crane net weight
About19,500kg
About20,000kg
About19,500kg
About20,000kg
Load depth limit D
1000~1300(inclusive)
1000~1300( inclusive)
1000~1300(inclusiv e)
1000~1300( inclusive)
Load width limit W
W ≤ 1300  (inclusive)
Motor specification and parameters
Level
AC;32kw(single deep)/32kw(doubledeep);3 ψ ;380V
Rise
AC;26kw;3 ψ ;380V
Fork
AC;0.75kw ;
3ψ ;4P;380 V
AC;2*3.3kw ;
3ψ ;4P;380V
AC;0.75kw ;
3ψ ;4P;380 V
AC;2*3.3kw;
3ψ ;4P;380V
Power supply
Busbar(5P;  including grounding)
Power supply specifications
3 ψ ;380V±10%;50Hz
Power supply capacity
Single deep about 58kw; double deep about 58kw
Top ground rail specifications
H-beam  125*125mm(The  installation distance of  the ceiling rail is not more  than 1300mm)
Top rail offset S2
+420mm
Ground rail specifications
43kg/m
Ground rail offset S1
-175mm
Operating temperature
-5 ℃~40℃
Operating humidity
Below 85%, no condensation
Safety devices
Prevent walking derailment: laser sensor, limit switch, hydraulic buffer
Prevent lifts from topping or bottoming: laser sensors, limit switches, buffers
Emergency stop function: emergency stop button EMS
Safety brake system: electromagnetic brake system with monitoring function
Broken rope (chain), loose rope (chain)detection: sensor, clamping mechanism
Cargo position detection function, fork center inspection sensor, fork torque limit protection Cargo anti-fall device: cargo shape detection sensor Ladder, safety rope or safety cage, maintenance platform, anti-sway mechanism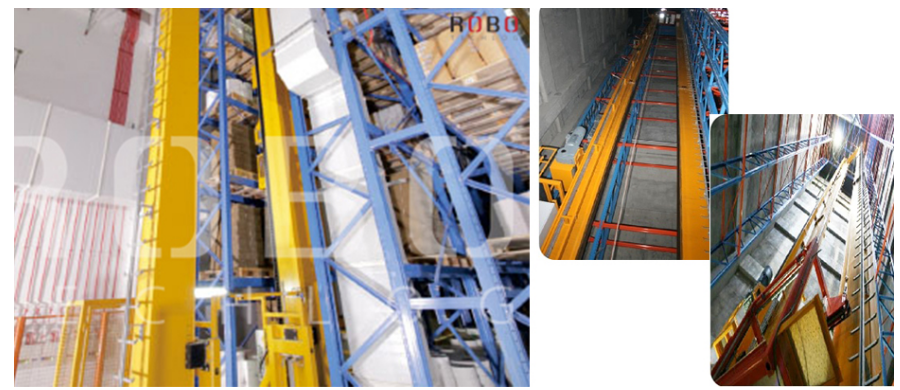 ---
Previous:
Panther Series Stacker Crane
---
Write your message here and send it to us