In July 2023, the official website of the Jiangsu Provincial Department of Industry and Information Technology announced the list of the fifth batch of specialized, refined, and innovative "little giants" enterprises in Jiangsu province. With its technological innovation and outstanding market performance in the field of intelligent warehousing and logistics, Inform Storage has successfully won this honor.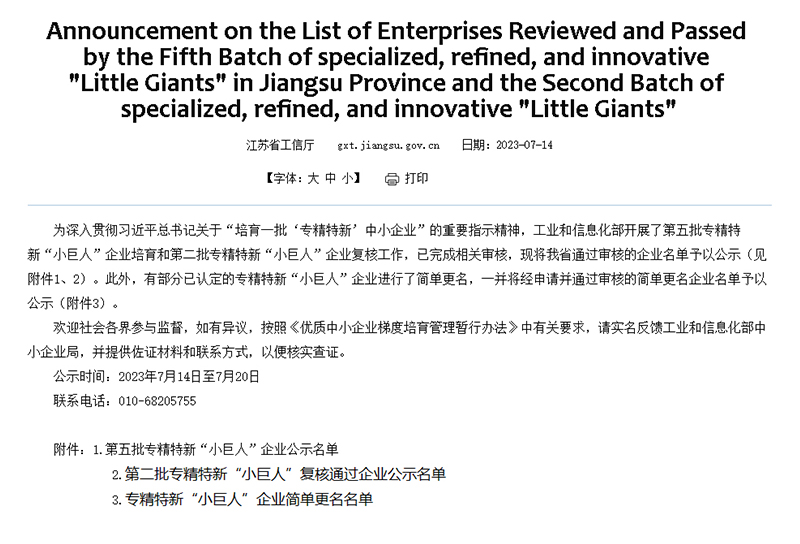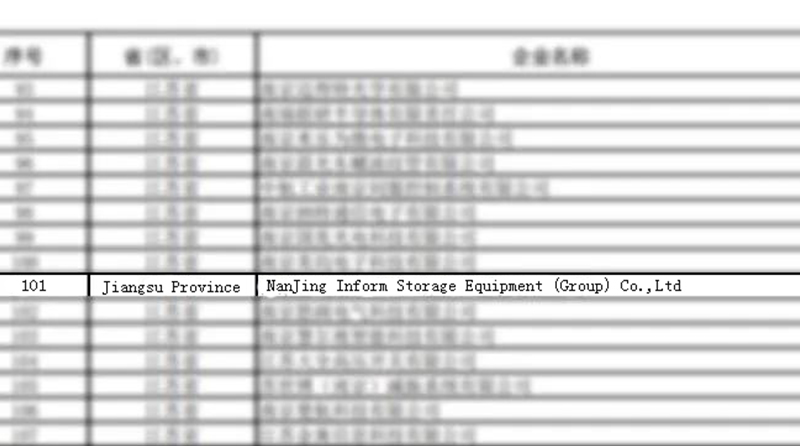 1. Specialized, refined, and innovative
On January 23, 2021, the Ministry of Finance and the Ministry of Industry and Information Technology of China jointly issued a notice on supporting the high-quality development of "specialized, refined, and innovative" SMEs, focusing on promoting the high-quality development of SMEs and boosting the construction of a double cycle Dual circulation. "specialized, refined, and innovative" enterprises are an important support for the upcoming industrial chain and the main force for strengthening the chain complementary chain.
The passing of this recognition is an authoritative recognition of the efforts made by Inform Storage in the field of "specialization, refinement, and innovative", as well as a high recognition of its comprehensive strength in the field of intelligent warehousing and logistics, including innovation ability, technical ability, and market application.
As a leading global supplier of intelligent warehousing and logistics ecosystems, Inform Storage leads products widely used in well-known leading enterprises both domestically and internationally, with key industries covering cold chain, photovoltaic, new energy, clothing, rubber, chemical, central kitchen, etc. In the context of the era of digital intelligence, Inform Storage places greater emphasis on product innovation, system construction, and resource optimization, creating benchmark intelligent factories, and building a digital supply chain system; Actively promote the "N+1+N" strategy, integrate upstream and downstream resources of the industrial chain, and build an enterprise ecosystem; Add bricks and tiles to the innovation and development of the industry, and build a symbiotic and win-win new ecosystem.
Project Cases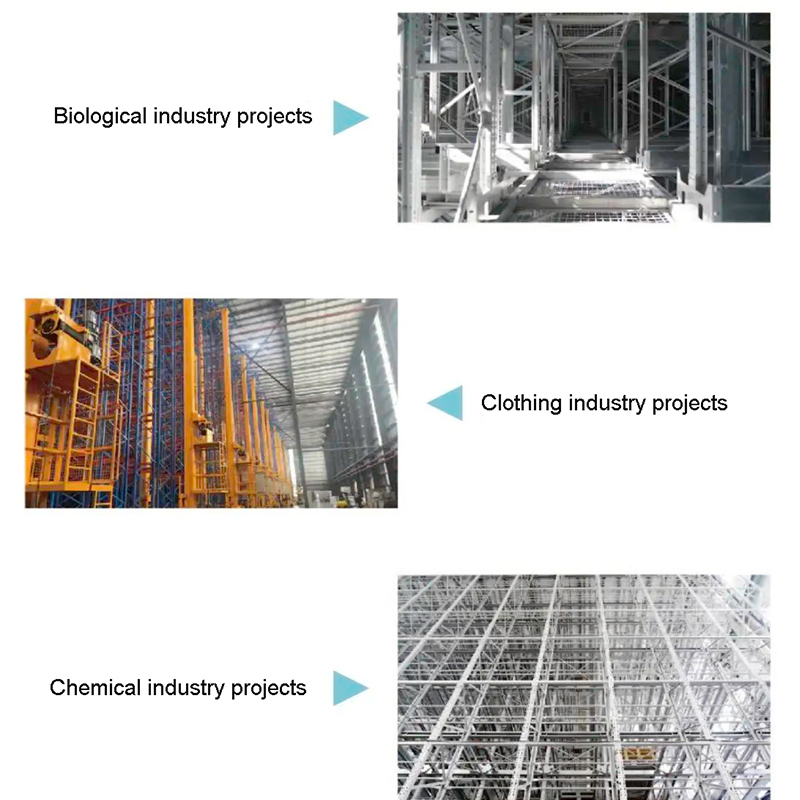 2. About Inform
Nanjing Inform Storage Equipment (Group) Co., Ltd. (stock code: 603066), founded in 1997, was listed on the Shanghai Stock Exchange on June 11, 2015, and will become a state-owned holding enterprise in 2020; The company is headquartered in Nanjing, Jiangsu, and has 5 research and development centers and 7 production bases worldwide. Its business covers module products and integrated services such as intelligent handling robots, intelligent software, high-precision rackings, etc. Its sales network covers the world; Having multiple leading core technologies, we can provide one-stop intelligent logistics ecosystem solutions for global customers.
Due to its excellent strength, Inform Storage has won multiple corporate honors and recognition; At present, the company has effectively authorized 178 patents, including 17 invention patents; 72 software copyrights; Led and participated in the development of 6 national standards and 17 industry standards, and published 4 industry books and works. The continuous high recognition in the industry will continuously inject development momentum into the audio storage industry.
We can provide you with "shuttles + racking" intelligent warehousing solutions; and improve the idea of Racking, Robot, Solutions for Automated warehouse supplies system, provide smarter storage solution with higher efficiency.
In the future, Inform Storage will continue to strengthen innovation drive, focus on key links in the industrial chain supply chain, strengthen breakthroughs in key core technologies, continuously improve customer satisfaction, and jointly promote continuous progress in the industry.
NanJing Inform Storage Equipment (Group) Co.,Ltd
Mobile phone: +8613636391926 / +86 13851666948
Address: No. 470, Yinhua Street, Jiangning District,Nanjing Ctiy,China 211102
Website: www.informrack.com
Email: lhm@informrack.com 
---
Post time: Jul-28-2023