The 2023 China (Qingdao) Lithium Battery Negative Electrode Material Technology Conference, hosted by Graphite News, was held in Qingdao from April 18th to 20th. ROBOTECH was invited to attend and discuss the future development direction of lithium battery negative electrode materials with research institutes, industrial technology enterprises, and experts, interpret technology and industry hotspots, and comprehensively analyze the research and progress of core materials for lithium battery negative electrodes in China.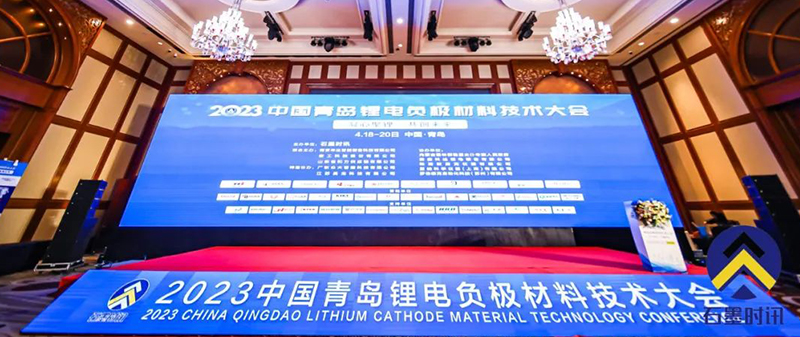 Xiao Jing, Sales Director of ROBOTECH East China, shared the keynote speech on "Exploring the Digital and Intelligent Upgrading of Lithium Battery Material Warehousing" at the meeting. Starting from the current development status of the lithium battery material industry and combining ROBOTECH's experience in landing lithium battery positive and negative electrode materials, he revealed the path of intelligent logistics warehousing empowering the digital and intelligent transformation of lithium battery materials.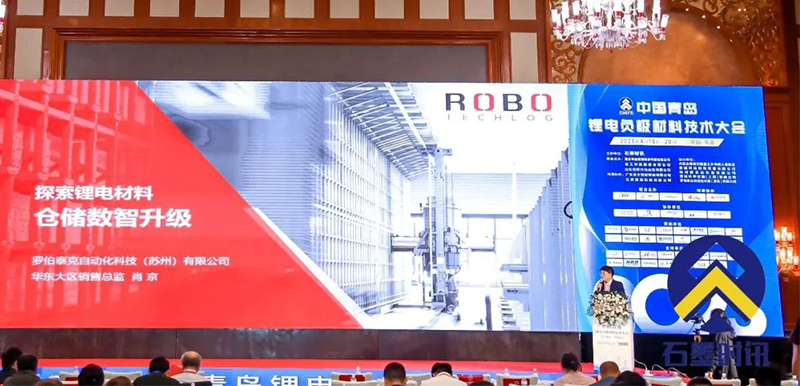 1. Storage Problems in the Lithium Battery Materials Industry
With the arrival of a new round of expansion in the new energy lithium battery industry, lithium battery material enterprises upstream of the industry chain have entered the stage of large-scale production and delivery, and the improvement of delivery capacity and efficiency has become a top priority for development.
At present, the problems of lithium battery material logistics are mainly reflected in four aspects: reliability assurance under high load conditions, cleanliness assurance in dust environments, shipment quality assurance to meet customer needs, and rapid delivery and service assurance.
The intelligent and digital control of warehousing can effectively solve the problems of lithium battery material enterprises. It can not only help lithium battery material enterprises achieve automation in the entire process from raw material warehousing and outbound, to semi-finished product storage and distribution, as well as finished product shipment, effectively reducing labor costs, but also making the layout of warehousing space more reasonable. At the same time, ensuring the stability and reliability of the docking of storage equipment while the number of storage spaces, height of storage, and cargo weight continue to increase.
2. ROBOTECH Lithium Battery Solution
Based on its extensive experience in the field of lithium battery positive and negative electrode raw materials, combined with a deep understanding of battery production and upstream material collaboration, ROBOTECH can provide various comprehensive intelligent logistics solutions such as raw material automated warehouses, semi-finished product automated warehouses, finished product automated warehouses, line side automated warehouses, and room temperature/high temperature static automated warehouses according to the actual storage needs of lithium battery raw material suppliers and battery manufacturers.
For negative electrode graphite factories, dust pollution is an important aspect that cannot be ignored. ROBOTECH adopts system level and equipment level foreign object protection measures for customized optimization to solve the risks of short circuit, shutdown, and AGV route chaos caused by dust conductivity on the equipment production line, ensuring smooth operation of the factory. For customers' demand for reliability assurance and short delivery cycles, ROBOTECH has leveraged its brand reputation and long-term iterative delivery experience to support the industry trend under large-scale expansion.
So far, ROBOTECH's products and services have spread to over 20 countries and regions worldwide, and have established long-term and stable cooperative relationships with many leading enterprises in the new energy lithium battery industry. In the future, ROBOTECH will continue to play an innovative and leading role in smart logistics in the field of lithium battery materials, actively exploring in the field of smart logistics.
NanJing Inform Storage Equipment (Group) Co.,Ltd
Mobile phone: +8613636391926 / +86 13851666948
Address: No. 470, Yinhua Street, Jiangning District,Nanjing Ctiy,China 211102
Website: www.informrack.com
Email: lhm@informrack.com 
---
Post time: Apr-26-2023