State Grid is a super-large state-owned key enterprise related to national energy security and the lifeline of the national economy. Its business covers 26 provinces (autonomous regions and municipalities) in China, and its power supply covers 88% of the country's land area and supplies power to more than 1.1 billion people. The company's patent ownership continues to rank first among state-owned enterprises, and the company ranks second among the Fortune Global 500 in 2021! Rated as one of the most innovative companies with industry leading and international influence.
Our country's power grid optimization and resource allocation capabilities have been greatly improved, the proportion of clean energy installed capacity has reached 35%, and the level of technology, equipment, and intelligence is leading the world. With the implementation of this plan, State Grid has realized the intelligent and digital development of the whole link of power grid system generation, transmission, transformation, utilization and storage equipment!
In this context, the Huangshi Intelligent Warehousing Project of State Grid Hubei Electric Power Co., Ltd. was officially launched in 2021, planned and designed by Inform Storage, and quickly deployed and implemented!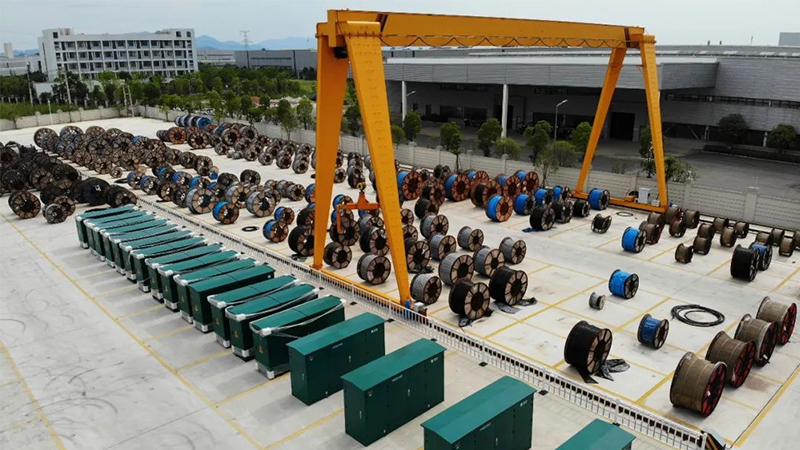 1. Project Introduction
State Grid Huangshi Intelligent Warehousing Project, located in Huangshi City, Hubei Province, covers an area of about 20 mu, and the main functional area of intelligent warehousing is about 5,000 square meters; Including four-way radio shuttle system, 1212 pallet slots; four-way multi shuttle system, 1890 container slots; AGV system, 352 slots; and Eagle Eye 3D intelligent monitoring platform, WMS, WCS system, etc. smart software system; Realize the visualization, digitization, intelligent operation and management of the overall storage system!
Inform Storage has been deeply involved in the field of intelligent warehousing in the power industry for many years, and has successfully implemented projects of well-known power companies. It has rich industry experience!
For the State Grid Huangshi project, considering customer needs, power industry characteristics, material specifications and other aspects, the final planning and design is based on four-way radio shuttle system + four-way multi shuttle system + AGV system + WMS + WCS + Eagle Eye 3D Visual platform system as the overall solution of the project!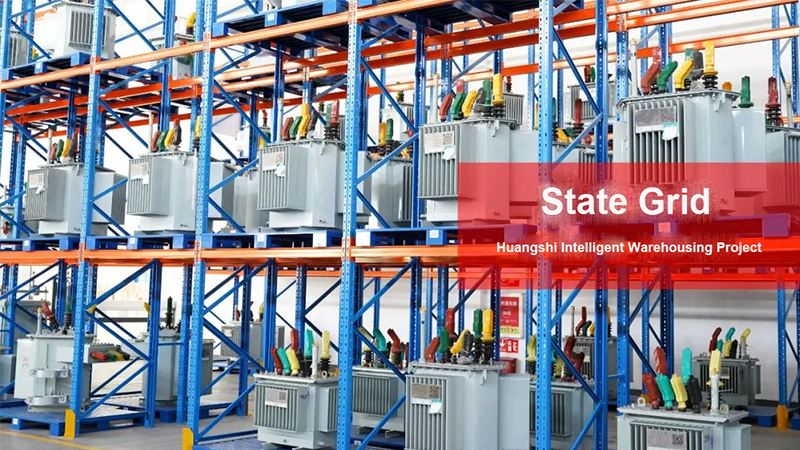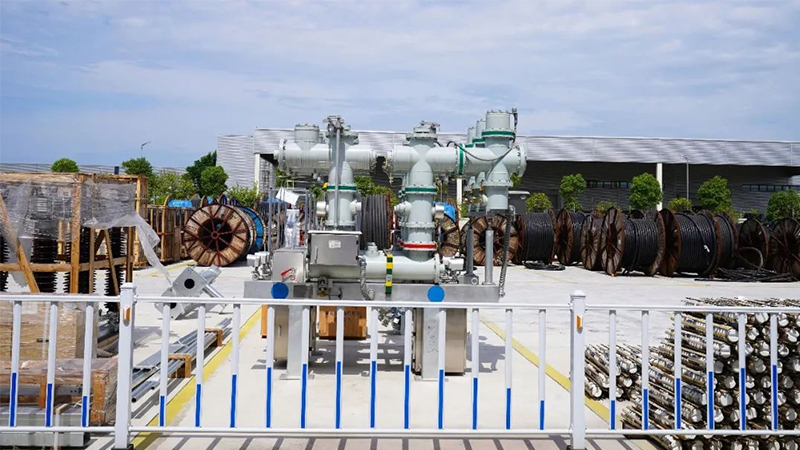 2. Solution
The system is 9.2 meters high, with a total of 4 floors and 1264 pallet spaces; it is equipped with 4 four-way radio shuttles, 2 elevators, WMS/WCS system, and Eagle Eye 3D intelligent monitoring system; Use 1600*1200mm pallet for storage, rated load is 1T; pallet stacking height is 1800mm; Mainly store circuit breakers, isolating switches, high-voltage fuses, distribution boxes, electric energy metering boxes, terminal boxes, wiring, arresters, hardware, wire clips, cable terminals and other items on the column.
The four-way radio shuttle system is suitable for high-density storage. The overall modular design is used with good scalability, and the number of shuttles can be increased or decreased according to different efficiencies; The system does not have high requirements on the height, area and regularity of the warehouse, and can be quickly deployed to achieve 24-hour fully automated operations.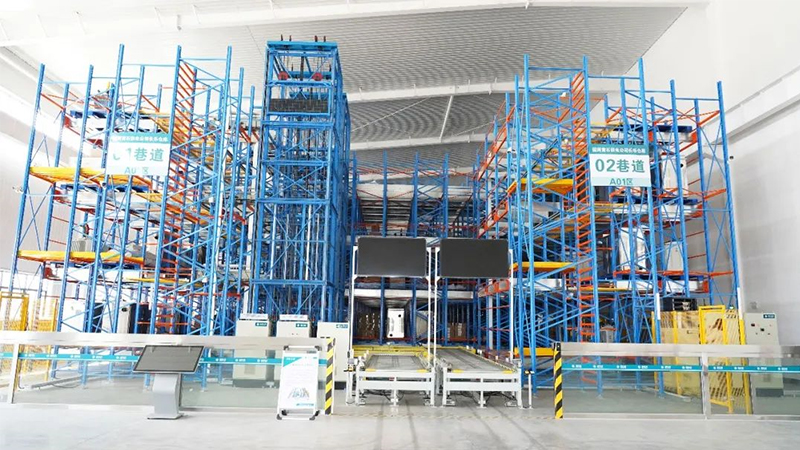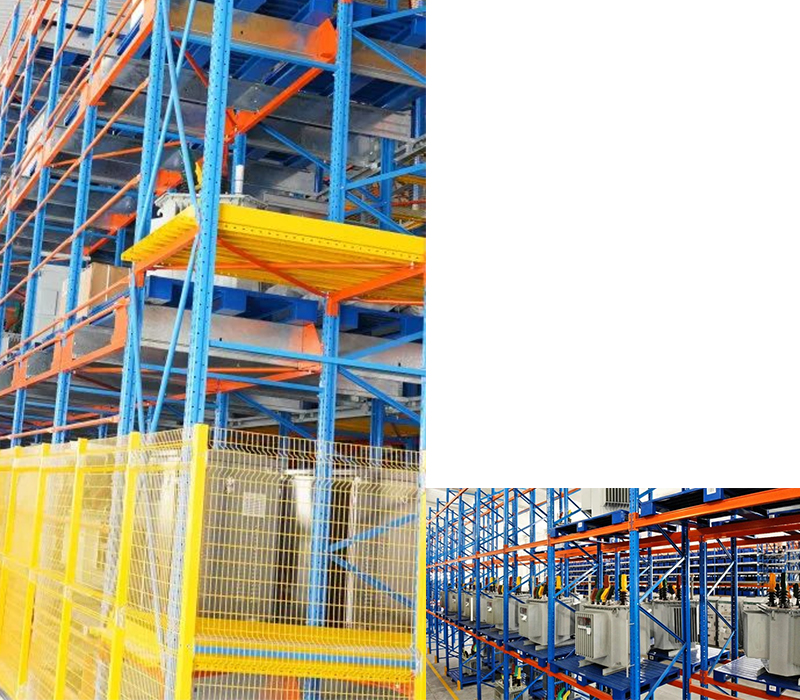 Four-way radio shuttle system
Four-way multi shuttle system
The total height of the system's automated warehouse is 5.75 meters, with a total of 9 floors and 1890 container spaces; it is equipped with 4 four-way multi shuttles, 1 vertical conveyor, WMS, WCS systems and other intelligent software; The 600*400mm turnover box is used for storage, and the load is 30kg; the stacking height of the turnover box is 330mm; Mainly store terminals, bolts, insulating shields, switches, fuses, battery packs, low-voltage switches and other items;
The four-way multi shuttle system can realize the functions of material box in and out of the warehouse and fast picking; The system has strong scalability, high flexibility, and has the ability to dispatch multiple vehicles on the same floor and operate across aisles; it is suitable for application scenarios such as goods-to-person picking, dismantling and picking, and multi-category small-item picking.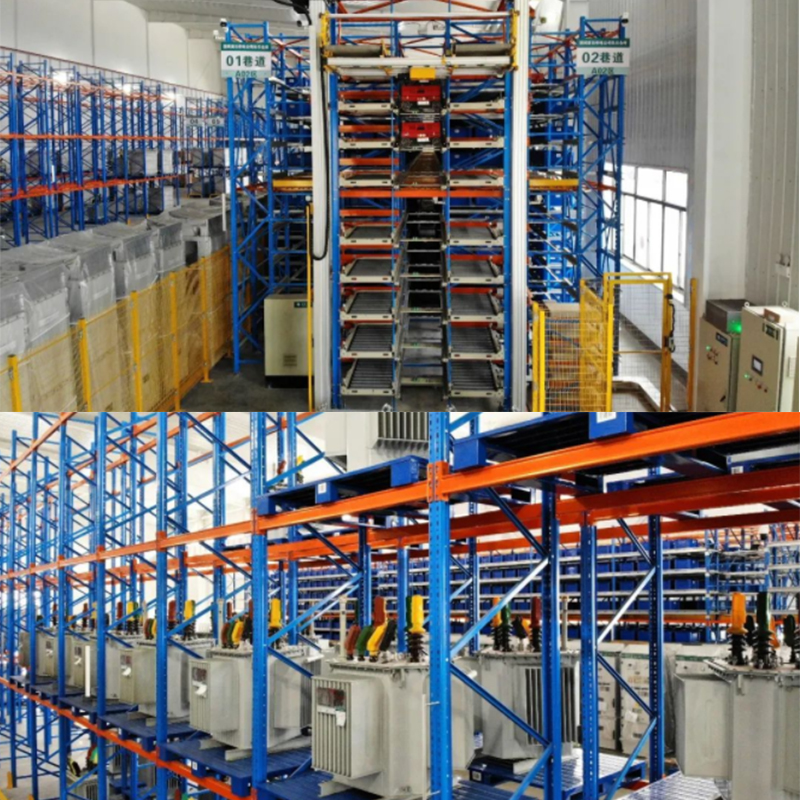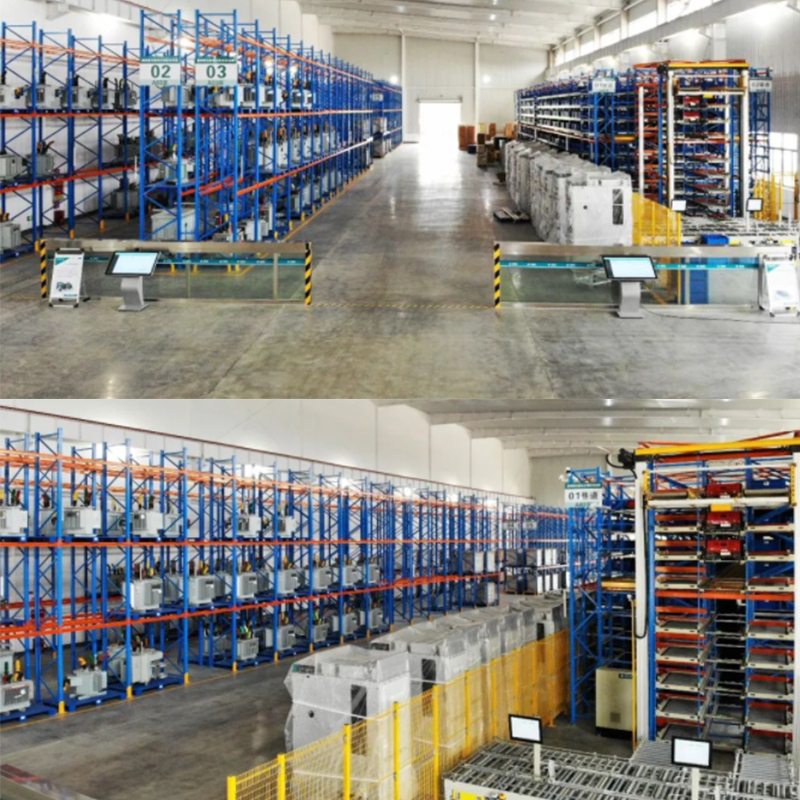 Four-way multi shuttle system
AGV system
The system mainly includes heavy-duty beam racks, AGV and other modules; The heavy-duty beam shelf is 7.45 meters high, with a total of 4 floors and 352 cargo spaces; Use 1600*1200mm pallets for storage, with a rated load of 1.6T; Equipped with 2 stacking AGVs and 1 forward-moving AGV; it can realize automatic operation in and out of the warehouse; Mainly store oil-immersed transformers, power distribution cabinets, cable branch boxes and other items;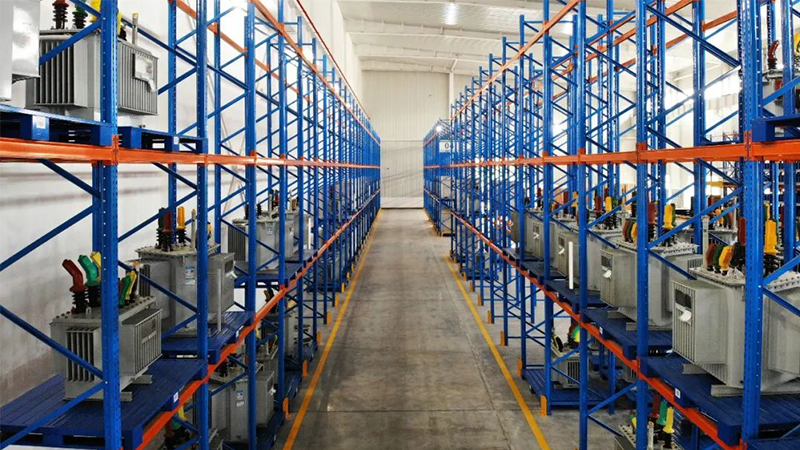 AGV system
3. Customer benefit
• Reduce warehousing costs
  Compared with ordinary warehousing in the past,the area of used warehouses has been reduced by 2,500 square meters; the rental cost   has been reduced by 50%;
• Improve storage efficiency
  The overall inventory capacity is increased by 1.6 times, and the operation efficiency is increased by 2.2 times;
• Warehouse visualization
  Realize the visualization of process operations: order processing, order monitoring,   material  delivery;warehouse  management visualization:  warehouse managem-  ent, business display board, warehouse  monitoring;  application analysis visualization:WCS   system and other intelligent software applications for digital and   intellig-  ent  analysis;
• Digital management
  From material warehousing, to warehouse management, to warehouse delivery, reports are  automatically  generated!  The  whole process realizes digitization, visuali-  zation and refined management of warehouses; it  reduces the   dependence on  professional and  technical personnel, and enables decision-making, management,  and  operation  layers  to collaborate and  manage efficiently. It  greatly improves the efficiency, accuracy and safety of material  storage,   and  further strengthens the   warehouse management and  material security capabilities of the State Grid.
NanJing Inform Storage Equipment (Group) Co.,Ltd
Mobile phone: +86 13851666948
Address: No. 470, Yinhua Street, Jiangning District,Nanjing Ctiy,China 211102
Website: www.informrack.com
Email: kevin@informrack.com
---
Post time: Jul-12-2022