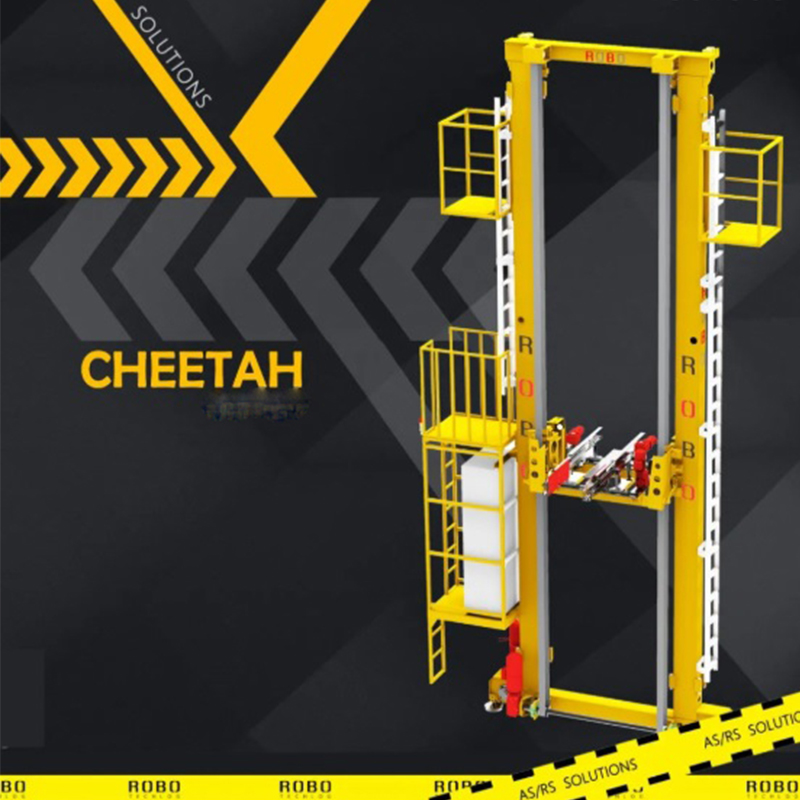 1. Product analysis
The cheetah is widely regarded as the fastest animal. ROBOTECH CHEETAH series stacker cranes are lightweight and compact, and are ideal storage equipment for cargo warehouses. The optimized design of the lightweight body enables high-speed operation of storage equipment. It is be called as the fastest model in the stacker crane industry, bringing higher efficiency to small warehouses.
Extremely fast
High cargo operation efficiency
Up to 360m/min speed, 4m/s2 acceleration to operation
Reliable
High space utilization, installation height up to 25m, and load up to 300kg
Lightweight
The lightweight steel structure body design ensures stability and safety while shortening the operating cycle to
maximize throughput
Low maintenance, low operating costs
Equipped with optional energy feedback function system, can improve energy levels and minimize operating costs
High momentum handling capacity
Lightweight design is suitable for small goods warehouses with high in-out frequency
Modular Motor Design
The performance of the equipment can be improved or reduced by replacing the motor module or adding a drive device, and quickly adapt to changes in storage conditions
Small size of roadway and improved space utilization
The innovative roadway design and drive system save space by optimizing the body design to make the structure more compact.
It realizes the smallest space size among similar products, and achieves the effect of small space, large storage capacity
and high throughput.
Various fork devices
Suitable fork devices, storage bins or cartons can be selected according to the characteristics and performance requirements of the transported goods. (Telescopic forks are suitable for single-deep storage)


ROBOTECH independently develops and builds a Cheetah stacker crane model suitable for small goods storage. Through a

number of technological innovations, the product performance is stable and superior.




Breaking the barriers to storage of small items with high momentum, creating a new space dimension for small items storage.




In the future construction of small-scale warehouse automated warehouse,

the application prospect is broad.
NanJing Inform Storage Equipment (Group) Co.,Ltd
Mobile phone: +86 13851666948
Address: No. 470, Yinhua Street, Jiangning District,Nanjing Ctiy,China 211102
Website: www.informrack.com
Email: kevin@informrack.com
---
Post time: May-26-2022