With the steady increase in demand for fruits and vegetables, meat products, and prefabricated vegetables, the scale of China's cold chain market has been comprehensively promoted, and the cold chain circulation industry pattern is being reshaped from different aspects. The warehousing and logistics industry has sparked a wave of modern cold chain logistics center construction characterized by automation and informatization. The mature application of the new generation of intelligent logistics technology represented by automated warehouse systems has brought the cold chain logistics center into a more intelligent development stage.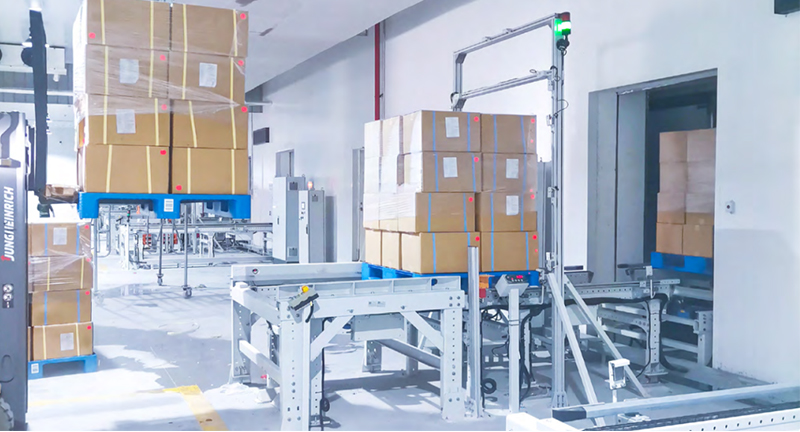 CHINA FORCE OILS&GRAINS XIAMEN LIMITED. (referred to as CFCCL) was established in 2003 with a registered capital of 7 million US dollars and is located in the Xiamen area of China (Fujian) Pilot Free Trade Zone. Its plan is to establish a cross strait cold chain food import and export logistics industrial park, mainly focused on cold chain comprehensive logistics and supplemented by cold chain container yard supporting services, with the aim of creating a cold chain logistics center demonstration base that connects the two sides of the Taiwan Strait, serving urban and intercity distribution.
1. Equipped with smart logistics
In order to build a supply chain integrated logistics park and create value-added service space for businesses across the Taiwan Strait, CFCCL Company has built a new cold chain logistics center in the Haicang Logistics Park in Xiamen, providing third-party cold chain logistics services for bonded storage. It has been officially put into use in 2021.
ROBOTECH has provided an intelligent automated warehouse storage solution for the logistics center project, which includes equipment and solutions such as rackings, stacker cranes, inbound and outbound transportation systems, automated warehouse management software, warehouse scheduling monitoring software, stacker crane control software, and transportation control software. The logistics center is designed to store up to 10000 tons of food, striving to become the "largest cold chain logistics center on both sides of the Taiwan Strait" within the Xiamen Free Trade Zone.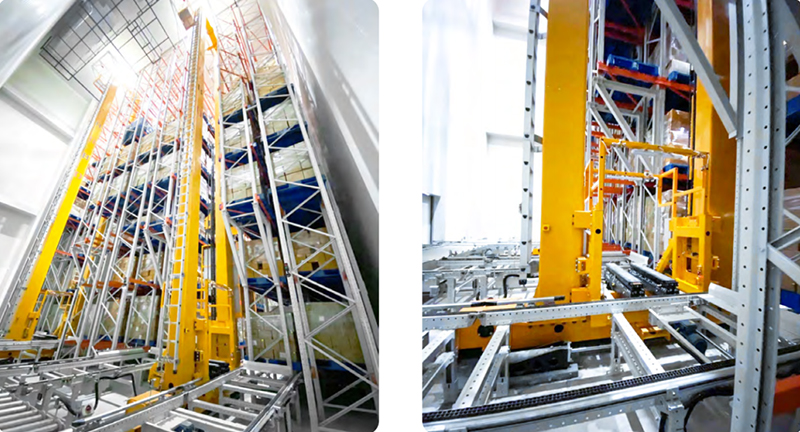 Overall layout of the park
The newly built cold chain logistics center of CFCCL Company has a total land area of 59982.25 square meters, providing third-party cold chain logistics services for bonded storage, achieving functions such as direct warehousing, batch shipment, and "storage and inspection integration" of imported frozen and refrigerated food. The project is divided into Phase I and Phase II overall cold chain logistics center planning, as well as Phase III and Phase IV related service logistics office building construction and logistics warehousing purposes.
2. ROBOTECH automation library solution
- Rackings, stacker cranes, and conveyors
- 2983 square meters & 62 meters & 18.3 meters & 21 meters high & up to 10000 tons
- Racking: 6 alleys
- Stacker crane: 6 sets
For the cold chain logistics center warehouse planning of the second phase project, CFCCL Company has chosen ROBOTECH to create an automatic warehouse system solution for it. Based on ROBOTECH's unique warehouse solution with configurations such as rackings, stacker cranes, and conveyors, we aim to achieve stable and efficient cargo entry and exit operations.
Among them, the reservoir area covers an area of approximately 2983 square meters; The length of the roadway is 62 meters, the height of the shelves is 18.3 meters, and the height of the stacker crane is 18.3 meters; The warehouse is 21 meters high and has a storage capacity of up to 10000 tons.
The specific composition is as follows:
Racking: 6 alleys with a total of 10104 storage spaces;
Stacker crane: 6 sets, double depth, single station, Black Panther series;
1 set of inbound and outbound conveying system, including chain conveyor, lifting and transferring machine, etc;
One set of automated warehouse management software V3.0, one set of warehouse scheduling monitoring software V3.0, one set of stacker crane control software V3.0, and one set of conveyor control software V3.0.
This solution fully utilizes the storage space of the logistics center, maximizes the utilization of air conditioning energy consumption, and ensures enterprise costs; Implement functions such as automatic storage, batch shipment, and automatic storage and retrieval of frozen/refrigerated food; Its WMS can automatically interface with the upper system; The manual handling operations in the first phase of the cold storage will be unmanned after being put into the vertical storage.
3. Building Excellence
The launch of CFCCL Company's cold chain intelligent logistics center project has played a demonstration role in food cold chain warehousing. Firstly, it improves the utilization of storage space and maximizes the utilization of the refrigeration system in the vertical warehouse; Secondly, it has accelerated the circulation of food, ensured continuous temperature conditions in the cold chain, and ensured food safety; Finally, the application of automated unmanned automated warehouses also ensures the safety, environmental protection, and efficiency of food storage and retrieval.
Multiple functions for optimizing cold chain logistics
The cold chain logistics center adopts an efficient and environmentally friendly CO2 refrigeration system, which is applied to the -21 ℃ freezing temperature layer and the -50 ℃ ultra-low temperature layer. Intelligent system to improve management efficiency and food quality. The dock loading and unloading operation area with pre cooled temperature layer and complete platform loading and unloading equipment provide fast service for various types of vehicles.
Project characteristics
With the pursuit of safety, environmental protection, and efficiency, we will introduce advanced low-carbon and energy-saving facilities and equipment, develop integrated storage and transportation management plans, and achieve the vision of CFCCL Company to support the rapid circulation of cold chain food across the Taiwan Strait.
Improve activities such as cross shore food material supply, bonded/non bonded warehousing, goods collection and transportation, distribution and marketing, ensure the safety of food storage, transportation and marketing, and expect to become a progressiveness and representative food import and export cold chain logistics center in Haixi.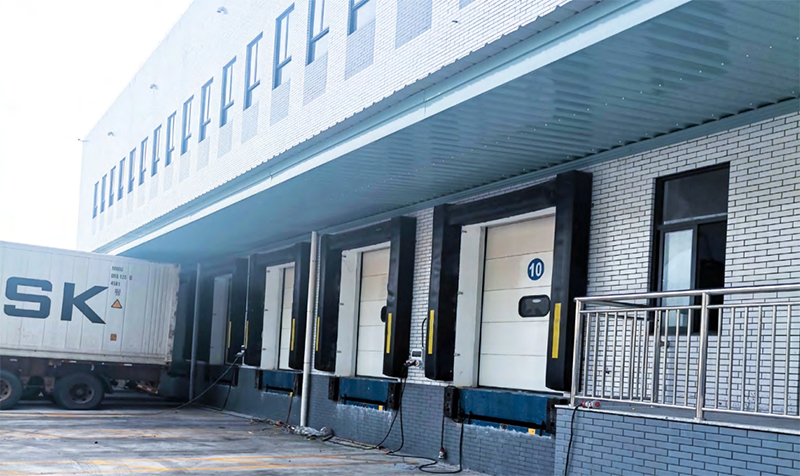 Through ROBOTECH's advanced cold storage design concept and planning implementation, and the use of software and hardware systems such as rackings, stacker cranes, conveyors, WMS, WCS, PLC, etc., we provide a cold chain solution that is energy-saving, efficient, and cost-effective for the construction and operation of logistics parks. This can not only improve the quality of food consumption in Xiamen and surrounding areas, but also achieve modern import and export storage and transportation services; And it can optimize logistics storage and transportation nodes to achieve intelligent storage and transportation operations and efficient logistics networks; It can also better serve the "supply chain integration" logistics park.
The completion of the warehousing and logistics link of the Phase II cold chain logistics center not only enhances the service competitiveness of CFCCL Company's smart supply chain, but also serves as an important strategic support for its logistics development, and meets the future scale of logistics business in Xiamen. This is also an important microcosm of the mature development of China's cold chain industry.
NanJing Inform Storage Equipment (Group) Co.,Ltd
Mobile phone: +8613636391926 / +86 13851666948
Address: No. 470, Yinhua Street, Jiangning District,Nanjing Ctiy,China 211102
Website: www.informrack.com
Email: lhm@informrack.com 
---
Post time: Jun-08-2023