With the wide application in industry, agriculture, transportation, national defense and various industries, the reliability and safety of low-voltage electrical equipment have attracted more and more attention, and the electrical components inside the equipment play a crucial role in quality.
1. Co-detection electrical components automated storage
ABB Xiamen Low Voltage Equipment Co., Ltd. (hereinafter referred to as ABB Low Voltage) is one of the largest low-voltage electrical equipment manufacturers in the world. It is providing products and services to customers in China and more than 30 overseas countries and regions with high efficiency. ABB's low-voltage output is increasing year by year, and the storage density and SKU types of product raw materials and components are also rapidly increasing. Therefore, warehousing problems such as low transportation efficiency and large inbound and outbound volume are becoming more and more prominent, which need to be solved urgently.

2. ROBOTECH provides solutions
In the solution proposed by ROBOTECH, the vertical space of 8.4m is fully utilized. Two sets of automated warehouses were built for ABB Low Voltage – heavy-duty automated warehouse and light-duty automated warehouse. Among them, the heavy-duty automated warehouse is equipped with a 3-lane automated pallet stacker crane system with 2,256 positions, and the light-duty automated warehouse is equipped with a 3-lane automatic container stacker crane system with 3,696 positions. It meets the high-density storage requirements of ABB's low-voltage components and materials for MNS products. The two new automated warehouses are equipped with conveying systems, combined with the goods-to-person picking system, through the WCS/WMS warehouse management software system to schedule stacker cranes, conveyors in and out of the warehouse, and automatically update cargo location information.
In order to meet its efficient operation, the heavy-duty automated warehouse of this project adopts the PANTHER seriesdouble-deep stacker crane system, which realizes the rapid in and out of the warehouse at 128 pallets/hour. At present, this model of ROBOTECH has been iterated to the third-generation new product, which provides the maximum high throughput capacity on the basis of long-term continuous operation while adhering to the original high reliability. Compared with similar models, the operating speed of the third-generation PANTHER model of ROBOTECH is as high as 240m/min. These professional technologies are about 30% higher than the existing domestic standard stacker crane technologies on the market.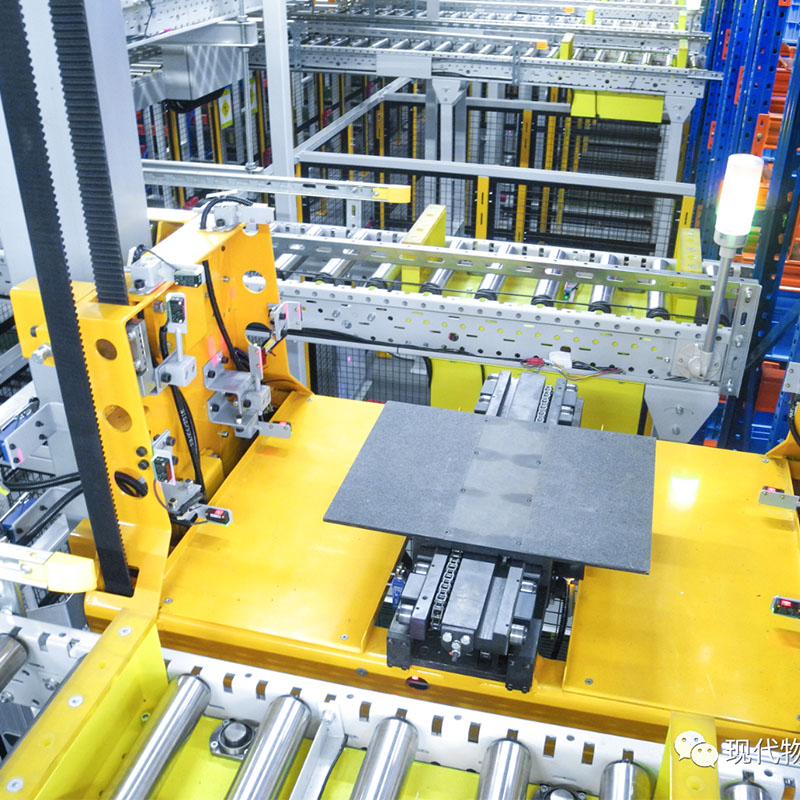 In the selection of the stacker crane system for the light-duty automated warehouse, ROBOTECH combined the characteristics of MNS product parts and selected the ZEBRA series models that allow the material flow to be handled in a highly dynamic manner. This stacker crane is flexible and can handle fork devices of various goods. The equipment acceleration is up to 1.5m/s2, and the maximum load is up to 300kg.
WCS/WMS automated warehouse management system can not only carry out abc classification management of goods, but also provide classification and classification management of goods, support batch management of goods, and support operation plan management. It also provides remote diagnosis, maintenance functions, and multi-level management functions such as warehouses, regions, and cargo spaces. Through the automatic alarm setting of the upper and lower limits of inventory, it provides shortage, overstock, sluggish, backlog, customer classification statistics, inventory change analysis, and cargo space utilization analysis. It realizes the requirement of synchronous traceability of material quality according to pallet barcode or RFID tag.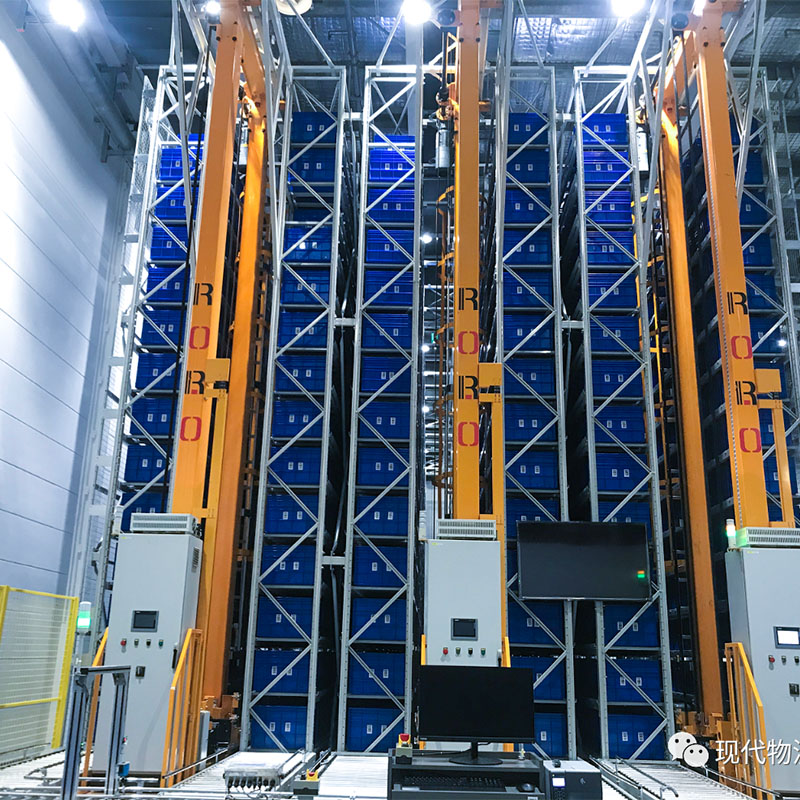 3. Project features and values
The solution provides excellent storage capacity, safe inventory delivery, higher production efficiency and process monitoring. The perfect combination of global design concept and exquisite craftsmanship makes the smart storage solution of this project perform well in practical application.
• Personalized customization, high technology integration, high positioning accuracy
• Safe operation, automatic alarm when fault occurs, and display fault code through the computer display screen of the main
electric cabinet
• Various storage strategies: FIFO, nearest storage, even storage, partition storage, emergency priority
• Dynamic management scheduling: real-time detection, monitoring, management, information query
• After the project is implemented, the batching time is shortened from 3 days in the traditional way to 1 day
• High-density storage, warehouse utilization is 30% higher than traditional automated storage retrieval system (AS/RS)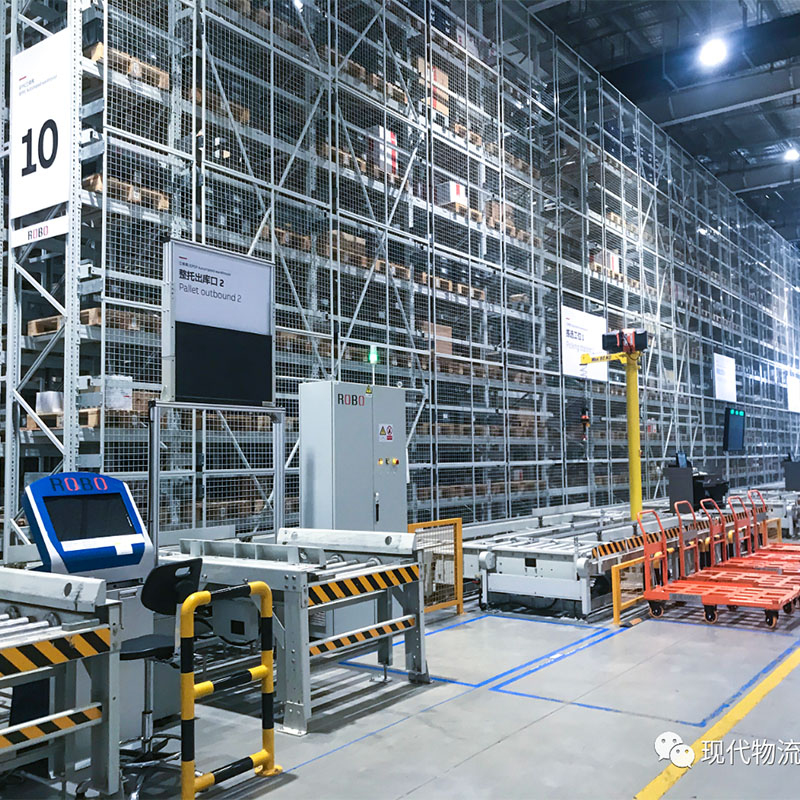 4. Accelerate industrial automation transformation
The automated warehousing solution implemented by ROBOTECH this time, with stable and efficient warehousing capacity, helps customers liberate labor, improve production efficiency, optimize product quality, reduce potential safety hazards, and comprehensively improve enterprise quality and production efficiency.
As a microcosm of the industry, this project proves that the warehousing automation solution provided by ROBOTECH can effectively improve the status quo of low manual handling efficiency in the warehousing environment of the low-voltage electrical appliance industry, and provide a solid boost for further accelerating the upgrading of warehousing automation and intelligent transformation.
NanJing Inform Storage Equipment (Group) Co.,Ltd
Mobile phone: +86 13851666948
Address: No. 470, Yinhua Street, Jiangning District,Nanjing Ctiy,China 211102
Website: www.informrack.com
Email: kevin@informrack.com
---
Post time: Sep-16-2022