–Exclusive interview with ROBOTECH Automation Technology (Suzhou) Co., Ltd
Li Mingfu, Deputy General Manager of Internal Control System
Yao Qi, Director of Quality/Lean Center
Whether the market is full of spring or cold, the improvement and improvement of internal business management is always one of the keys to stable development. What are ROBOTECH's valuable practices to learn from in this regard?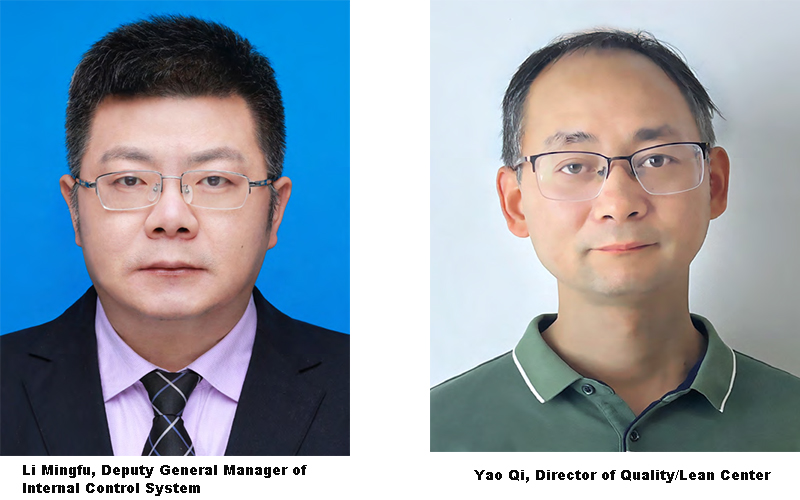 Actively adjust and improve to adapt to the market environment

In the current complex economic situation and insufficient market demand, the logistics equipment industry in China has indeed felt a certain chill, "said Li Mingfu, Deputy General Manager of Internal Control System of ROBOTECH Automation Technology (Suzhou) Co., Ltd, However, as the role of national macroeconomic regulation begins to emerge and every enterprise actively adjusts and improves, we firmly believe that everyone can further adapt to market pressure and is gradually returning to the right track.
1. Upgrade corporate culture, enhance company cohesion and execution
As a senior foreign brand in the industry, ROBOTECH possesses the characteristics of humanization, inclusiveness, and strong innovation ability of foreign enterprises. At the same time, the company's management and a large number of middle-level cadres come from private enterprises, possessing a considerable degree of entrepreneurial spirit of perseverance and hard work. In September 2021, ROBOTECH was fully acquired by Inform Group, a subsidiary of Jingdezhen Tao Wenlyu Group Holdings. The company continuously accepts and learns from the stable, standardized, and pragmatic business philosophy and management experience of state-owned enterprises and listed companies.
To this end, ROBOTECH actively collaborates with Tao Wenlyu and Inform Group to promote the continuous integration and sublimation of diverse cultures through various means such as organizing retreats, monthly integration meetings, centralized training, and outdoor expansion. Through continuous efforts, the corporate culture of ROBOTECH has gradually upgraded, forming a people-oriented, customer-centric, committed to keeping promises, striving for excellence, and surpassing oneself corporate culture.
2. Improve internal management system, enhance management level and operational efficiency
ROBOTECH actively promotes the improvement of internal management models, especially in the areas of informatization and process standardization.
In terms of information construction, the company has promoted the launch of OA and E-HR systems, actively promoting training and improving the efficiency of various office software usage.In terms of institutional and process standards, in the past two years, ROBOTECH has focused on completing the construction of a full process cost control system and a comprehensive quality system.In terms of comprehensive quality management, ROBOTECH continuously solidifies the foundation of quality management through department and job responsibilities sorting, quality system certification, revision of quality management systems for incoming materials, manufacturing, and installation, and gradually improves the quality management system throughout the entire cycle from supplier management, research and development design, manufacturing production, to project installation and commissioning.
3. Achieve the development and strength of internal management and market development together.
While strengthening internal management, the company has also made significant progress in market expansion. While focusing on traditional industries and markets, the company has made significant efforts in the new energy industry and Southeast Asian markets, resulting in a significant increase in orders. In the past 2-3 years, the company has also maintained a compound annual growth rate of 30% to 40% in terms of performance. Such a two handed and two handed performance and result also created a good environment for ROBOTECH's reform, providing sufficient confidence and motivation for the reform. At the same time, ROBOTECH received strong support from all employees in this process, "maintaining a high degree of consistency in thinking, twisting actions into a single rope, working together to complete the work, and ultimately sharing the benefits among all employees.
Received the Suzhou Quality Award

Under such efforts, ROBOTECH was awarded the Suzhou Quality Award. Li Mingfu stated that being able to win this award is not only a recognition of the past achievements of ROBOTECH by relevant departments of the Suzhou Municipal Government, but also a very positive signal for ROBOTECH's customers and partners.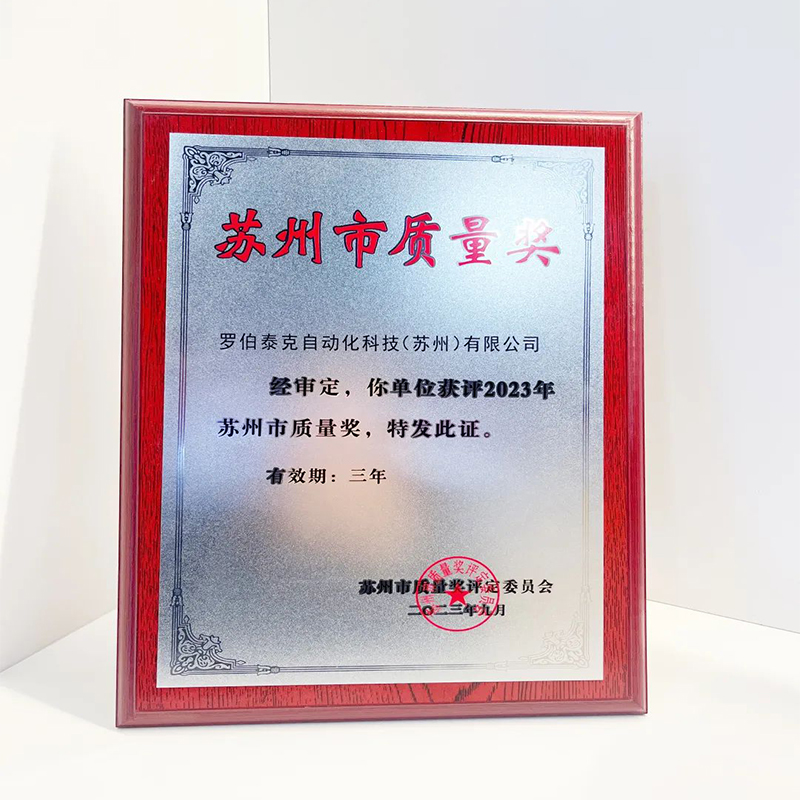 1.  Adhere to quality first and high quality
Regarding the emphasis on "adhering to quality first and high quality" in the Suzhou Quality Award, Li Mingfu first explained his understanding of high quality. He said that high quality means that enterprises can highly match the needs of customers and provide them with high-quality products and services.
How to persist? Li Mingfu stated that firstly, ROBOTECH has established a comprehensive quality control system to ensure the high quality of products in every stage from design, production and manufacturing to project delivery. ROBOTECH has an experienced international design and planning team to ensure the customized needs of each customer, and ROBOTECH has modern manufacturing factories in Changshu and Jiangxi. At the same time, in terms of service, ROBOTECH always adheres to the position of customers, focusing on fundamentally solving problems and meeting customer needs, and reflecting this throughout the entire product lifecycle to achieve continuous improvement of products and solutions for customers. This is actually ROBOTECH's practice of "lean".
2. Lean is not only about not wasting
Regarding this, Yao Qi, Director of ROBOTECH Lean Center, shared his understanding of Lean. For logistics equipment enterprises with obvious non-standard attributes, lean should not be limited to the production process without waste, but should be integrated into the lean concept from the product lifecycle. Secondly, enterprises can integrate lean from a management perspective to create a platform that provides support for continuously optimizing processes.
Li Mingfu also strongly agrees with the view that enterprises should integrate lean thinking rather than simply adopting simple methods. Under the lean thinking, although it is a non-standard logistics equipment industry, it can also reduce costs through the standardization of some modules, benchmark and refine in continuous practical applications, and serve more customers. Moreover, as the future market matures and competition intensifies, the efficiency of internal management in enterprises must be the key to building their competitiveness, so enterprises need to integrate lean thinking.
3. Integration and practice of lean
ROBOTECH also has a unique approach to integrating lean into daily management processes. Firstly, corporate culture. Secondly, ROBOTECH has incorporated strict requirements into its daily training, job reporting, and performance evaluation, with quality management as a key assessment content. It has gradually established institutional guarantees for various aspects of quality management and strictly implemented them during the execution process; Thirdly, ROBOTECH has made significant investments in human resources; Fourthly, ROBOTECH has also made significant investments in funding, providing the quality control department with ample opportunities to conduct external learning and training every year, in order to draw on the excellent experiences of other enterprises.
4. Excellent cases are the embodiment of achievements
Li Mingfu gave an example that in 2023, ROBOTECH implemented two mega projects, and the industry status and project scale of these two project clients are crucial in the logistics equipment industry. For example, one of the top high-end liquor brand projects has attracted global attention and ultimately "fallen" on ROBOTECH, due to its inseparable quality control system.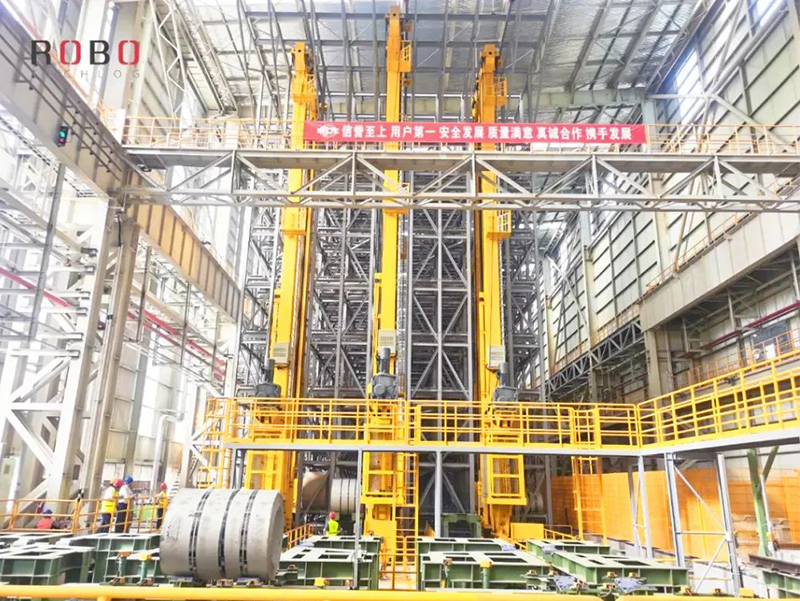 This project involves the coordination of multiple sets of equipment such as stacker cranes, shelves, and conveyor lines, which greatly tests ROBOTECH's design, production, and planning abilities. ROBOTECH also invited customers to visit the entire production and manufacturing process at the Changshu factory, and demonstrated the entire quality management process during this process. By visiting ROBOTECH's rich and excellent past cases, customers have developed a deeper understanding of its delivery capabilities. Through this process, customers have already understood our capabilities and the high quality and reliability of our products and solutions, and naturally trust us very much. "Li Mingfu added," This is also a manifestation of our competitiveness.

Full of confidence in the future and continuously promoting the optimization of internal control system

The current market environment is volatile, but the industry and enterprises must have sufficient confidence and actively respond, which is the first attitude expressed by Li Mingfu when discussing the future. At the same time, enterprises should also uphold a business attitude of "being prepared for danger in times of peace", and should start from changing themselves in situations where the environment cannot be changed. In terms of development maturity, the logistics equipment industry in China is still in a stage of rapid development, and there is significant room for development in the establishment and optimization of various internal management systems, which will also enhance the survival ability of the enterprise.
NanJing Inform Storage Equipment (Group) Co.,Ltd
Mobile phone: +8613636391926 / +86 13851666948
Address: No. 470, Yinhua Street, Jiangning District,Nanjing Ctiy,China 211102
Website: www.informrack.com
Email: lhm@informrack.com 
---
Post time: Nov-14-2023